March 14, 2022
A Passion for Cooking Leads Rebecca to a New Career
Rebecca Alvarado-Munguia began working with HHS in April 2017 as a part-time EVS patient ambassador on the night shift at George Regional Hospital in Lucedale, Mississippi. She enjoyed being a part of the housekeeping team, but her true passion was cooking. HHS also provided culinary services at her facility, so she spoke with her director to see about making the jump to the culinary team. Soon enough, she found herself working in food production. After about six months, she was doing well enough that she was promoted to head evening cook.
Rebecca's director and VP saw that she was eagerly taking on new challenges and succeeding at every new level. They knew she had great potential and a desire to continue learning and growing, so they nominated her to participate in the HHS Rouxbe program.
Rouxbe is an online cooking school that provides training on the fundamentals of cooking. HHS partnered with Rouxbe to provide frontline team members with opportunities to grow their careers in the culinary field. Managers are invited to nominate candidates for the program based on merit, performance, and tenure, and a committee reviews the candidates to select students to participate. The best part is that the program is completely free for team members.
Rebecca was accepted to Rouxbe and took courses that allowed her to grow her culinary skills. And after successfully completing the program, she was promoted to supervisor. This gave her the opportunity to visit other facilities and support the startup team as they rolled out services at new accounts. That's when she met James Maddi, senior vice president of culinary operations with HHS.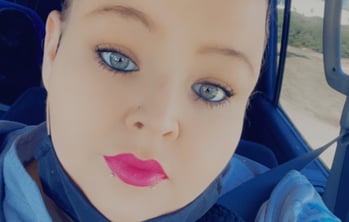 James was impressed by Rebecca's hard work and encouraged her to apply for an opening as an assistant director at a hospital in Biloxi, Mississippi. She applied and graciously accepted the position in May 2021. Shortly after her move, her former director at George Regional accepted a promotion as well, leaving the chef director position at the facility open. Rebecca split her time helping out at both locations for several months while gaining more experience as a leader. Pretty quickly, it was clear to everyone what needed to happen next. Rebecca was invited to take her chef test, which she passed with flying colors, enabling her to step into the role of Chef Director at George Regional in October 2021.
James says that Rebecca's drive and hard work are what has made her successful with HHS: "Rebecca puts 110% into everything she does. She's a quick study, shows great attention to caring for her patients and customers, and is always willing to help wherever possible, learning from every new experience. No doubt all of this has led to her significant career growth over the past 18 months."
From her start as a part-time EVS patient ambassador to her current role as a chef director, Rebecca has found motivation and inspiration in her family, team members, and colleagues. She has been married to her husband, Melvin, for 12 years, and together they have six children.
Rebecca says that she wouldn't have made these moves if it weren't for the support of others: "Marshall Watson and Drake Stone pushed me to take the Rouxbe class and to further my career. My advice to others looking for opportunity is to stick with it. The hard work pays off in the end."