October 7, 2022
David Beavers Leads Aircraft Cabin Cleaning Team to Success
David Beavers began his career at the Dallas Fort Worth (DFW) International Airport in 1990. Since then, he's gotten to experience many different aspects of airport operations under the direction of multiple organizations.

"I've done everything from passenger services, to ground handling, cargo, cabin cleaning, deicing - just about everything," says David.

With so much experience under his belt, it's no surprise that David has quickly proven to be a great leader for his team.

In May, HHS began providing cabin cleaning services for Delta flights operating out of DFW under David's leadership and quickly turned it into one of Delta's most successful operations. "In a very short time, our DFW team has become one of the highest performing stations in Delta's west region," shares Brett Mannion, President of HHS Aviation. "During the heavy summer travel months, our DFW team produced some very impressive scores. I am incredibly proud of the accomplishments that our DFW team has made!"
---
---
David's team provides two distinct cleaning services for Delta's flights out of the airport. During the day, the team quickly cleans aircraft cabins between passenger flights. They perform about 23 of those cleans each day, with a maximum time limit of about 90 minutes to complete each cleaning.

In the evenings, the team performs an overnight clean on each plane that remains at the station overnight. They also perform security searches, as directed by the Transportation Security Administration (TSA), to ensure the safety and security of each flight. The team pulls up seat cushions, checks life vests seals, and inspects supply holders in the lavatories to ensure there are no unauthorized items stored onboard.

While David's extensive experience is an asset to the team, starting up services at DFW still proved to be a challenge. Due to HHS taking over a portion of the operation earlier than originally planned, "We were very short-staffed when we started," shares David. "But we had someone, Katelyn Hyatt, come in from HHS for one week to help with recruiting and onboarding new team members. We had over 100 applications, and she contacted 80 or 90 of them. In that one week, we filled our schedule. That kind of support for the team has been amazing."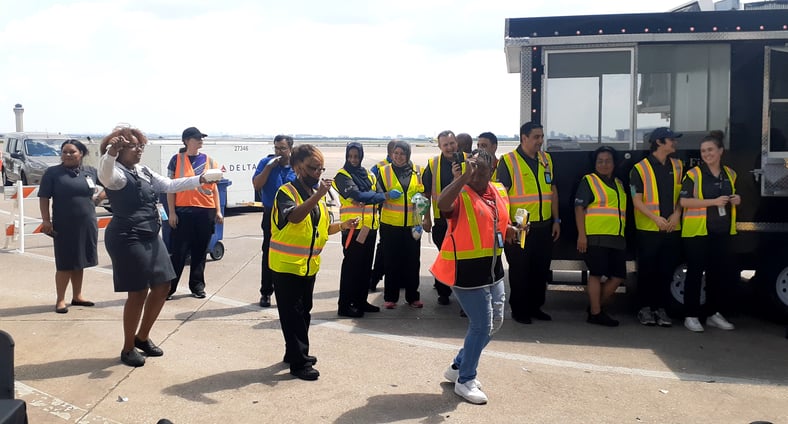 It Takes Teamwork
Effectively cleaning aircraft in such a short time takes an extreme amount of teamwork and coordination, and David has been fortunate to find some incredible individuals to fill his team. "I've got people from all walks of life—different countries, different languages. We have a good environment. People feel needed and feel at home here."

Francisco Rodriguez, the station administrator, plays a crucial role in running the daily operations. "He does the training and HR and helps with some of the day-to-day things I do," says David. "He's very IT savvy and has helped our team get up and running using [new technology that] tracks our cleaning times and who we have on the aircraft. Delta made the comment that within three days we had it down, and Francisco was a big part of helping train the team on how to use it."

Francisco was recently recognized by Delta for preventing a major chemical spill, which would have had a major environmental and financial impact on the company. But he isn't the only one to receive recognition.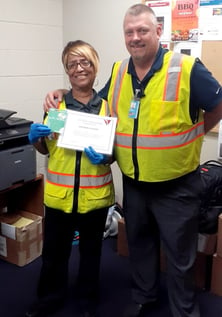 "Brenda Cashaw has been recognized by Delta twice since she's been here. She cleans the lavatories and the galleys, and she's been recognized for her very pleasant, positive attitude and thorough job cleaning," shares David. Brenda is so effective, that a Delta flight crew member took the time to personally write a letter to thank her. "It's one thing to call out the team, but to get an individual's name and type something up—that really means something."

The team is still new, but David has big goals. Now that they've achieved excellent cleaning scores, the first priority is to keep it up. Beyond that, he's looking forward to being able to expand the services that HHS provides for Delta and other airlines at DFW.

Through the ups and downs of his career, David is glad to have found a home at HHS: "I'm just blessed to be around good people in a good company. I've been doing this for a long time, and this is by far the best experience I've had in a short amount of time. I couldn't ask for anything better."
Tag(s):