October 3, 2022
HHS and Southwest University Make College Easier for Full-Time Workers
Working a full-time job and pursuing a degree is no easy feat. Juggling classes with your work schedule and home life, applying for financial aid, and simply finding the time to complete homework can feel like a second job.
HHS created a partnership with Southwest University at El Paso (SU) to try to ease some of that burden for HHS team members interested in furthering their education.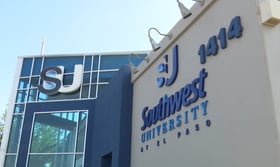 "We wanted to have a partnership with HHS for a while. When the pandemic took a serious turn, we started an online, hybrid program for our students. We created a platform and had resources that we knew would be good for HHS students," says Jose Nakid, College of Business Director at SU.
Southwest University at El Paso opened its door as a career college in 1999, helping non-native English speakers earn their GED. Fast forward to today, and the university offers accredited degree programs in technology, business, nursing, health, and more.
---
---
In 2021, HHS formalized a partnership with Southwest University to offer HHS team members the opportunity to earn an Associate of Applied Science of Business Management in Healthcare Support Systems. The 15-month program is delivered entirely online, enabling SU to expand its reach to students across the nation. Southwest generously offers all HHS students a significant scholarship. Combined with federal grants or financial aid, most HHS students are able to complete the program at essentially no cost to them.
Jose says that SU's history of supporting non-traditional students made for a perfect partnership with HHS. "There are a lot of professions that people take for granted. [Housekeeping] is a profession that was overlooked until Covid when people suddenly realized that it was so important. Our goal is to educate individuals to help them be successful and embark on their next professional or academic chapter. We want to give them an opportunity they wouldn't get otherwise — it's almost a free education."
Nearly 100 HHS team members have enrolled as students at SU, and the first cohort of students is getting ready to graduate in February 2023. Those students are spread across the United States: from Pennsylvania to Arizona and many states in between.
"There are almost 35 students about to graduate. You can tell they're all going to make it to graduation. They all have at least a 3.0 GPA — they're already there," says Jose.
New Challenges Lead to New Goals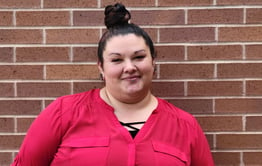 Carman Brown and Nikita Vazquez, both housekeepers with HHS at a hospital in Wyoming, are two of the students approaching graduation. For both women, attending the Southwest program is their first experience with higher education.
"I like being a guinea pig," says Carman. "My husband likes to try new things and he's always telling me, 'Here you try it first!' So I thought, why not school? So here I am, trying it first."
Carman feels she has more motivation and support to do well than she has in her previous experiences in school. "It's something you can actually do. In high school, it was a really big struggle. And especially because you really didn't care. As opposed to now, you wanna put that work in and you wanna get it done."
The staff at SU understands that the HHS students are working demanding jobs and that they may need support to be successful. They offer individual mentoring for students in both English and Spanish.
"A lot of support for our students comes from the instructors and from myself," says Jose. "We talk to them directly and really guide them. It's not easy to work weird hours and take classes."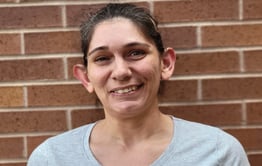 Nikita is already seeing the value of her education play out in her daily work life. "It's made me more observant with some things. Anything that has to do with analyzing the situation differently; I think it's kind of brought my observation level up."
Jose says that what he enjoys most about the program is watching people succeed when they didn't know it was possible: "Some individuals who never [attended higher] education in the past didn't know if they had the aptitude and knowledge to be successful. But they're putting in the effort, and we can see how much they've improved. They've tackled these challenges while still doing their work and taking care of their families. They know what they're going for so they take their education seriously. They're amazing individuals, each one of them."
This rings true for Nakita, who is finding her potential and expanding her horizons. "I really want to maintain my almost 4.0 [GPA]. These classes have been really interesting, not what I expected, but better. Some of the classes have been challenging, but it's to our advantage. It's really putting us out there to learn."
Completing this program is just the first step toward future goals for both Carman and Nakita. "I think we both want director positions eventually. You know, just to move up with HHS," says Nikita.
As for Southwest University, they are actively working on expanding their offerings. The school is developing a bachelor's program and will soon begin offering master's degrees in healthcare administration and nursing; both of which will be available to HHS team members who have earned a bachelor's degree.