August 10, 2022
Two Jobs No More: One HHS Housekeeper's Path to Success
For the entirety of Cintia Martinez's 15-year career in housekeeping, she worked two jobs at a time, morning and night. Balancing her life outside of work as a mom to two daughters felt nearly impossible at times. Finally, with her job at HHS, that is not the case.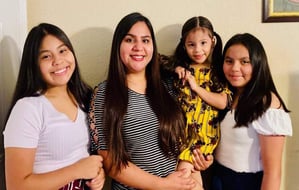 "I can balance life outside of work with my kids, and then when I'm at work I'm at work 100%. And I finally just have one job! [My kids] are happy for me, they're like 'Mom you did it!' To be able to show them that and be an example to my daughters, that's more than…," Cintia trails off, shaking her head with appreciation and at a loss for words.
Cintia was recently promoted to assistant director of EVS. She started as a housekeeper at the hospital in 2020, and over the past two years has worked as a bed board coordinator, patient advocate, and supervisor before this most recent promotion.
Cintia credits her director, Bernard Pinson, with lighting a fire under her to work hard and grow her career. "Every day he reminds me, 'Cintia, you're going to grow, you have a future with us. Keep it up, you're doing a great job.' He's a great motivator and a great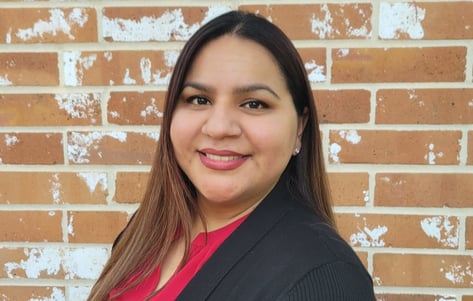 teacher and I thank him for that. [During] my first week on second shift I said 'I don't know if I can do this.' That week he pushed me, he said 'You got this, you got this.' His motivation is what kept me going," she shares.
Cintia is herself an effective motivator. Bernard shared, "During her time as a Housekeeper, Cintia played a critical role in building engagement and driving retention within our department. Cintia is a powerful force in the workplace and uses her positive attitude and tireless energy to encourage others to work hard and succeed. I am very proud of her and all of her accomplishments while being with the company!!!"
As an assistant director, Cintia has been able to bring structure to two different shifts at her hospital, enabling these teams to work more efficiently together. One of the ways she does this is by getting to know each team member and building rapport by showing them how much she truly cares about them.
Cintia described her current shift's secret weapon: teamwork. "We have nights where it's hard for us to push through and [team members] feel overwhelmed. I have team members that come up and say, 'Cintia, I'm done with my area, where do you need help?' We go to someone else's area together and we push through to get it done. I just love how we get together as a team," she said.
What advice would you give to HHS team members also wanting to grow in their careers?
"The advice I give is to keep working hard and to learn new things. I remind them every day that if I can do it, you can do it. You just have to put your mind to it and be hands-on all the time. Just work hard and one day you'll get there. You have to want to learn, you have to want to grow, it's in you. That's how I motivate [my team members]."

What are your hopes for the future?
"My hopes for the future are to continue to grow with HHS. I never thought I would have an assistant director position when I started as a housekeeper. I can only hope one day to be a director. But baby steps because I'm still learning."