January 29, 2020
How a True Support Service Partnership Resulted in Millions of Savings
By Joe Voiselle, HHS Director, Culinary
In Louisiana, a major part of the cultural identity is centered around southern-style cooking. Dishes served with rice and bread and hearty pastas form the cornerstone of the cuisine. It's a challenge to change a culture, but HHS' partner facility Baton Rouge General decided to take on the cultural norms of the region in an effort to develop more health-conscious menus for all of the food served in the hospital. Together Baton Rouge General and HHS created a program to improve the health and wellness of patients, staff, and guests who dine at the facility. BRGFit was initiated, and fast forward to a few years later, the hospital has been able to prevent employee insurance premium increases for the last five years and save the organization millions in healthcare coverage costs.
How did such a large cost savings happen?
It wasn't simple, and it took commitment on both ends of the partnership. But today, the results serve as a testament to the two organizations' collaboration and loyalty to each other and the individuals we serve.
Being Truly Invested
When the program started it required a large investment on behalf of the hospital. A big priority for the facility was having an engaged, healthy workforce. The hospital maintained a forward-thinking attitude, knowing that a healthy team would be less prone to get hurt or become ill and would be able to better serve the patients. In collaboration with HHS culinary, we began making small changes, such as swapping convenience items for fresh ingredients with fewer preservatives. For example, instead of purchasing the most cost effective bacon, the facility opted to pay a higher premium for nitrate-free bacon. The next investment was adding professional chefs to the team—we're now up to eight chefs at Baton Rouge General. Each chef brings with them restaurant and hospitality experience and offers a creative approach to recipe and food creation for the hospital. Through the collaboration of the chefs and the introduction of healthier produce and meats, the menus and offerings were revamped in a unique way.
Using Creativity to Appeal to the Masses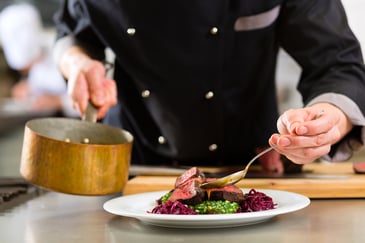 The BRGFit program requires the culinary team to stay creative constantly. How do we take southern comfort foods like pig-in-a-blanket or pastas and make them healthy? It wasn't an easy task, but we've found that small changes can produce big results. By not taking away the emotional connection to food, we took a distinctive approach that allowed us to keep the same look and feel of many favorites. This resulted in a new way to think of soul food. The HHS chefs took a leap, reviewing dietary needs and revising southern favorites while offering the same comfort as the originals in a healthier way. Pig-in-a-blankets are now made with all-beef, uncured, nitrate-free hot dogs and breaded with a combination of cheese, cage-free eggs, butter, and olive oil, and baked instead of fried. By eliminating preservatives, we are able to offer a higher-quality product that still provides a sense of comfort and a feeling of treating yourself.
Breaking the Stigma
The way we see it, we aren't changing the essence of the food, we are just making more well-informed decisions on how we prepare and serve our meals. We don't have to promote the foods any differently in the cafe. When we serve our take on pot roast, we don't market it as healthy pot roast or change the name; it's just pot roast. We just altered the ingredients to make a healthier version. In our patient rooms, we are serving fresh fruit instead of sugar-filled juice, and swapping brown rice for white. In the end you'd be surprised how many people don't even notice the modifications and adjustments. These changes are helping anyone who enters the cafe or hospital make healthier decisions without even thinking about it.
By opting for quality over convenience, and ensuring patients, staff, and guests receive real, fresh food, we are providing a healthy balance. With the support and collaboration of Baton Rouge General we are able to change the perception of food and encourage a healthier approach to fueling our bodies. With over 100,000 meals being served every month, we are impacting the health and wellness of many lives. The results? Happier, healthier individuals, and millions of dollars in insurance savings for the hospital.

Learn more about the BRGFit program and discover how HHS culinary can tailor a plan for your facility.