April 18, 2022
56 Million Pounds of Linen: Life Inside a Laundry Plant
April 24th through 30th, 2022 is National Laundry and Linen Week. The teams that manage and process linen seem to be a nearly invisible aspect of hospital operations, but they work diligently to supply the freshly cleaned linen that is vital to patient care. To celebrate this often unseen work, we're highlighting the incredible team at North Texas Health Care Laundry (NTHCL), a laundry plant that recently joined HHS as part of HHS' acquisition of FMA. Located in Grand Prairie, Texas, the facility services over 50 hospitals and over 500 clinics in the North and Central Texas regions. The facility is a not-for-profit co-op owned by several large health systems and is managed and operated by HHS-FMA.
General Manager Alan Bonds shared that they "travel about 1.1 million miles a year to make deliveries. We service DFW, Waco, Temple, College Station, and we're down in Austin. We process about 56 million soil pounds a year and about 49 million clean pounds a year." The laundry plant is both certified as a Hygienically Clean facility and as a Clean Green facility. State regulations and these certifications keep the facility producing the highest quality standard of clean linens.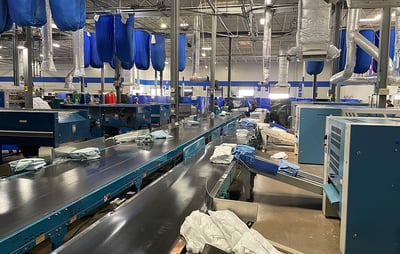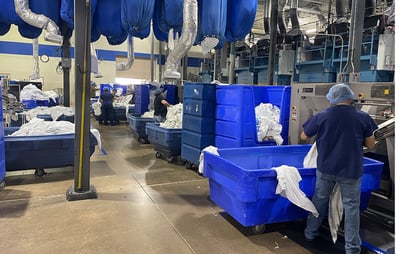 In addition to processing linen, NTHCL provides a linen inventory system, linen utilization review, and educational awareness. These added services are essential in keeping linen costs low for the hospital systems and maintaining the excellent customer service that NTHCL is dedicated to providing. "Our purpose is to give the best service at the cheapest price and that's [our] business model," said Alan, "We report to the board once a month. They drive what we're doing. We're fortunate to have a strong board and owners that can see what's happening today but are also concerned about what's gonna happen a year from now."
The facility runs two shifts a day, 24 hours a day, seven days a week, 365 days a year. They are always open because their customers are always open. They have a dedicated team of 300 employees ranging from laundry technicians in both soil and sort and production to drivers, dock workers, shipping personnel, and linen technicians at two hospital facilities. It takes a lot of coordination and teamwork to keep up with the pace of the laundry plant.
During Winter Storm Uri that greatly impacted Texas in February 2021, everyone pulled together to continue to deliver clean linen. Alan explained, "As far as we know, we were the only laundry facility last February that never closed. We had people driving around in four-wheel drive vehicles to pick up employees. We had our maintenance staff working on the floor. We had our office staff working on the floor. We did a number of things that couldn't have happened if we hadn't all pulled together." He continued, "It was a big deal for us to pull that off, we felt pretty good about it."
The team at NTHCL is incredibly diverse, representing 20 different countries and speaking seven languages. "We've got people from all parts of the world: Madagascar, Sudan, Kenya, Honduras, El Salvador, and Mexico. A lot of employees are very proud of becoming U.S. citizens, they'll bring in their documents to show everyone," shares Human Resources Manager Mary Khan.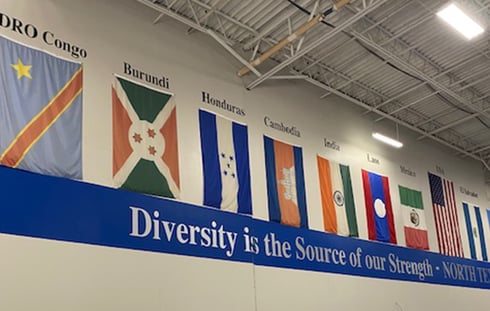 With such a variety of languages, they do face challenges when it comes to communication. But Mary explains that they find a way to make it happen. For larger events or training they rely on translators. "We have to make sure we pick the right person to translate in the correct dialects," says Mary.
Many of the team members at NTHCL have years of experience, including some who have worked at the facility for 30+ years. "[There are] a lot of long-term employees. They've seen and done everything. [New employees] can lean on these people. It's very teamwork-oriented. In every department, the managers work together for the betterment of the plant. It's very cohesive," Production Director Sean Elgan tells us. The facility's culture and leadership's appreciation for their team members is a primary reason for the retention and longevity of its employees.
"It's a good company to work for. The first thing I tell people is that this is the first company I've seen where management took a real interest in the people and did something about it. We try to recognize employees," Mary says. The ultimate purpose of keeping the hospital patients' environments clean and healthy can sometimes get lost in the daily flow, but it's important for employees to know what an important piece of that purpose they are. NTHCL has implemented a recognition program and hosts monthly birthday lunches and giveaways to show their team members that they are seen and appreciated. Managers lead from a place of compassion and understanding and everyone takes the values of respect and dignity very seriously.
As a large processing facility, NTHCL is focused on production and numbers that they have to meet every hour of every day. But they don't lose sight of the people who make the team what it is. NTHCL is consistently successful, upholds high standards, and retains an invaluable workforce.