May 2, 2023
If There is a Problem, Shipping Manager Teresa Diaz is the Woman to Solve it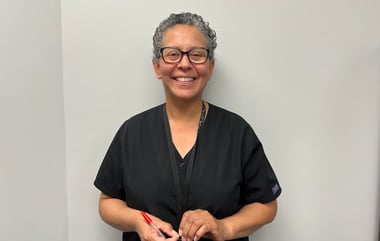 Teresa Diaz began working for North Texas Health Care Laundry (NTHCL) on March 28, 1990, as a laundry aide. She has since worked in nearly every area of the laundry facility and is currently the manager of shipping.
HHS acquired FMA in 2021 and began providing management oversight of the facility. Earlier this year, NTHCL was named HHS Laundry and Linen 2022 Team of the Year. Their success is due in large part to team members like Teresa who have an expert-level understanding of the laundry process and trusted longevity with the company. Teresa manages a 20-member team that ensures the accuracy of work orders every day and does so enthusiastically.
"I love my job. I love whatever department I work on. I like to organize everything. When you come to work every day and you see all of the problems and then we have organized everything. I love that," she shared.
Teresa is well-liked and respected by her team. She leads with understanding, working to make sure team members can take care of their families and find balance in their lives. NTHCL HR Director Mary Khan remarked that "[Teresa] is organized, she likes to plan ahead, and she always makes sure that the work orders are accurate. But as far as her team is concerned, she is compassionate and understanding of what their needs are and she quickly helps them."
Teresa is known to come in with a smile every morning, always ready to hype up her team for a good day. Part of what keeps her motivated and showing up excited for each day is her love of problem-solving and overcoming challenges. She lit up when talking about all the problems at her fingertips that needed solving during Texas' winter storm this past February. It takes a uniquely gifted person to be excited about a plethora of urgent, stressful problems suddenly landing in their lap.
"My daughter always tell me, 'Mommy. Why you like that job?' I love all the problems and all the [challenging] situations, especially in the winter. We don't have drivers, we don't have employees. When I have to fix the linen and all the product for the customers: I love to do that," Teresa exclaimed.
Mary followed up, "Teresa takes great pride in her work. [She likes] the challenge and accomplishing that goal."
Teresa encourages team members to learn everything they can about every aspect of the laundry and linen process if they too want to find success in the industry. "Be consistent. Be patient. And learn. When you make a mistake, it's not the end of the world, but there's something that you want to learn. You learn from your failures," she noted.
When asked about her greatest accomplishment over her 33-year career at NTHCL, Teresa simply answered that it was the fact she still loved her job. Loving one's job day in and out can be an elusive goal to reach but Teresa's example is one to learn from. When Teresa isn't at the job she loves, she enjoys traveling with her husband, Antonio, and her 15-year-old daughter, Isabella.