January 18, 2023
2022 HHS Teams of the Year
Since 2016, HHS has selected one team that is deserving of recognition for their performance that year. This year, we expand upon that tradition to recognize teams that have shown outstanding work and success from each division. A big congratulations to every team for this well-deserved honor:
Aviation and Overall Winner: DFW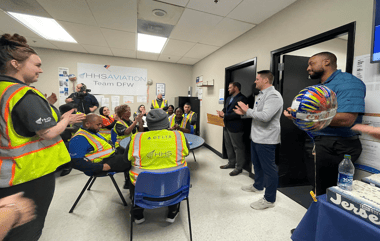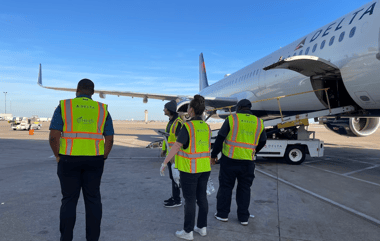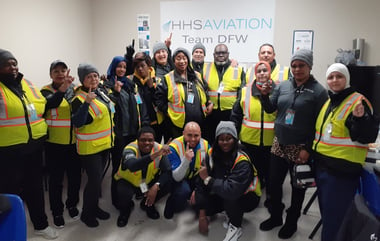 The HHS team at DFW launched in May 2022 and was quick to find success. Aviation Division President Brett Mannion said, "[The team] came together as a cohesive, high-performing unit that provides excellent service, and has a great time while doing so. The DFW team has consistently demonstrated its focus on providing quality service. In fact, the team regularly receives praise from our customer (Delta Air Lines), and has achieved exceptionally high audit scores."
Additionally, the HHS Aviation Division was selected as the OneHHS Team of the Year winner for 2022. Operating in the aviation industry is still a relatively new venture for HHS, but the team, led by Brett Mannion, has already found a lot of success. HHS CEO Bobby Floyd says, "Starting a new business is very difficult, especially for an industry that's highly regulated like aviation. We're really excited to be off to a great start, and heading into 2023 we see some excellent opportunities for us to grow."
EVS Coastal Region: St. James Place
The EVS team at senior living facility, St. James Place, started off 2022 facing an uphill battle but set out to prove themselves. Director Robert Butler led his team to complete a laundry list of unfinished tasks, renew a strong relationship with the facility leadership, and improve overall quality. They earned a 99.4% team member satisfaction score and a 92% patient satisfaction score in 2022. Vice President of EVS Stephen Elsenrath says the team received "Consistent kudos throughout the year for Rob's leadership and the team's performance. Every visit and every conversation with the client was a positive interaction due to the relationship and trust that has been built."
EVS, Capital Region: UCHealth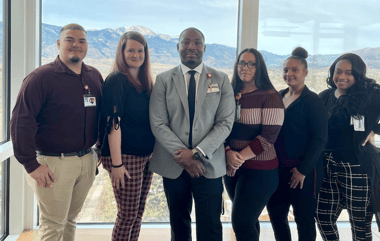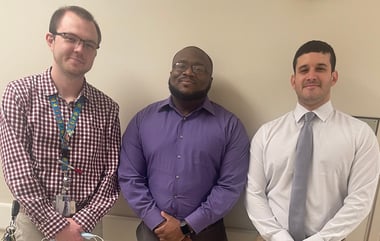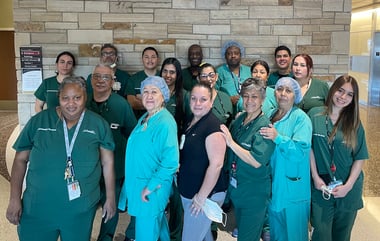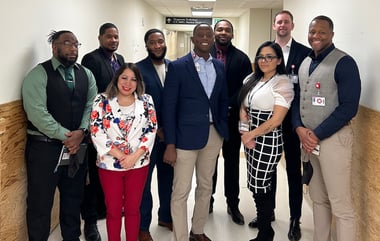 With seven locations led by EVS directors Erva Trotter, Charlie Twiggs, Steven Trotter, and Charles Williams, and supported by Vice President Willie Nash, the team maintained a consistently high level of performance in 2022. Executive Vice President of EVS, Scott Rafinski, relayed, "I would put their quality up against any other hospital in its size category. First impression performance is stellar. The outstanding job the leaders do here on a day-to-day basis has built credibility in our organization [and is helping HHS] to generate new business."
Culinary: Baton Rouge General
"[The Baton Rouge General team] truly embodies the HHS culture while achieving exceptional outcomes. This is evident through consistently strong team member engagement survey performances, exceptional huddles, community involvement, retention, and a one-team approach," shares Executive Vice President of Culinary, James Maddi. The team, led by Director Thomas Voiselle, consistently exceeds expectations. They have a 75% retention rate among team members and has excellent staff engagement. The team has implemented numerous initiatives, programs, and partnerships this year, and they make it a priority to give back to their community.
Patient Transport: CHI St. Luke's Health Baylor College of Medicine Medical Center
After HHS began providing transport services at the facility in summer 2021, the team, led by Director Brian Moczynski, received recognition and accolades from division leadership on every monthly call throughout 2022. The team decreased their turnaround time from 54 minutes to 24 minutes and increased annual transports by 40,000 without adding additional team members. The team's success has helped them to gain recognition from facility leadership and is helping HHS to generate opportunities for new business.
Laundry: North Texas Health Care Laundry (NTHCL)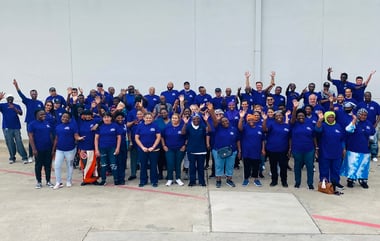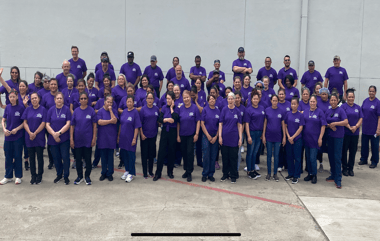 This year, General Manager Alan Bonds led his team at NTHCL to provide transition support as HHS and Foussard Montague Associates (FMA) integrated. The team has assisted in the creation of laundry training videos, trained all new and existing laundry managers, performed HHS corporate tours, and supported Laundry Utilization Management (LUM) proposals for member facilities.
Education: Houston Community College
The janitorial services team, led by Vice President Clifton Smith, at Houston Community College operates with a can-do attitude and has worked hard to strengthen relationships with campus leaders. They have a 97.84% team member satisfaction rate and consistently accomplish excellent work on all projects, receiving recognition from campus leadership. President of the Education Division Dan Ball said, "[This] team has done an excellent job of managing the contract, completing numerous floor projects, and most importantly, building good relationships and gaining the trust of our campus managers and facilities staff."
Resorts: Great Smokies Lodge
Director Michael Sellge and his team at Great Smokies Lodge "Utilize innovative strategies and procedures that have not only sustained previous performance gains but also exceeded expectations with continued success," according to Executive Vice President of Resorts, Bill Rose. Guest satisfaction scores increased by 2% in the past year, which is a major accomplishment. The team displays exceptional team culture, team member retention, financial stewardship, productivity, and throughput rates.