June 15, 2023
HHS EVS Teams at UCHealth Shine with High Performance
The HHS Environmental Services (EVS) teams of UCHealth were named the Healthcare Capital Region 2022 Team of the Year, highlighting their exceptional performance and dedication at six facilities within the UCHealth system.
Led by EVS directors Erva Trotter, Charlie Twiggs, Steven Trotter, and Charles Williams, and supported by Vice President Willie Nash, these teams consistently delivered exceptional service throughout 2022. Willie said of the team, "At UCHealth, our team is driven by a commitment to excellence. Our leaders set a high bar for performance, encourage collaboration, and foster innovation, creating an environment that supports our team members' development and success. We strive to be the best in our field and to provide the highest quality care for our community, patients, and their families."
Executive Vice President of EVS Scott Rafinski praised their work, stating, "I would put their quality up against any other hospital in its size category. First impression performance is stellar. The outstanding job the leaders do here on a day-to-day basis has built credibility in our organization [and is helping HHS] to generate new business."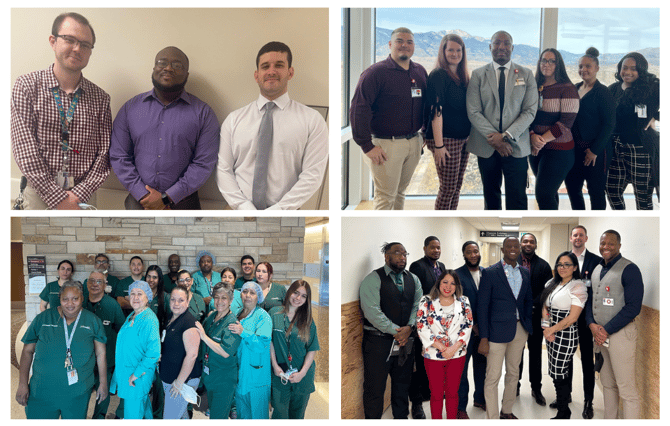 UCHealth's EVS directors mentioned several challenges they face being part of the healthcare industry in a post-Covid-19 world, including constant changes, achieving consistent HCAHPS scores, and staying fully staffed. Despite these obstacles, they managed to achieve remarkable accomplishments and maintain a high level of performance in 2022.
Erva proudly highlighted the team's success in reducing the time it took to clean rooms by over 50%, while Steven emphasized the improvement in HCAHPS scores and turnaround times. In addition to those successes, the team showcased their ability to meet high-level client expectations.
The exceptional qualities that set these teams apart from others include effective communication, unwavering focus on goals, a strong commitment to teamwork, and a deep sense of appreciation among team members. Their teamwork is highly regarded, with team members readily helping each other when needed.
For the upcoming year, the EVS teams at UCHealth aim to focus on development and retention, consistent achievement of HCAHPS goals, continue to meet turnaround time goals, and exceed the previous year's overall performance.
Willie takes a very hands-on approach with his teams and that has had a huge impact on the success they have been able to realize. UCHealth EVS leaders and frontline team members alike have proven very deserving of the 2022 Healthcare Capital Region Team of the Year award and set a great example for the rest of the company.