November 14, 2022
Stories from Hurricane Ian
On Wednesday, September 28th, Hurricane Ian made landfall in Florida as one of the most powerful storms to ever hit the continental U.S. With a large number of HHS partner facilities in Florida, many HHS teams were heavily affected. All HHS team members and their loved ones survived the storm safely, but many experienced extensive damage to their homes and personal belongings.
Several facilities were fully evacuated, a few experienced significant flooding, and some managed to continue operations as best as possible. HHS team members worked around the clock to clean up the damage and care for patients in the midst of the disaster, even when their homes were at risk.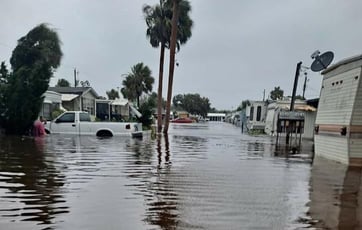 Ryan Stanley is a vice president of EVS and oversees multiple facilities that were impacted by the storm. Reflecting on the experience, he was impressed by the incredible work from HHS' on-site teams: "The level of leadership that our directors showed helped keep the teams calm. They rallied for sure and did an incredible job. It was a team effort across the board."
Melissa Yusko, also a vice president of EVS in Florida, agreed with Ryan's assessment. "Our leaders deserve recognition for stepping up and leading the team while people were really scared," said Melissa. "The water damage to the facility was a lot less than it could have been had we not had strong leaders and caregivers in place."
Below are several stories of how HHS team members stepped up through hardship to support each other and their communities.

Preparing While Recovering from Surgery
The weekend before the storm hit, while other Florida residents were preparing for what was to come, Pauline Harvey was recovering from dental surgery. She had a couple of teeth pulled and was in pain. She was unable to eat hard foods, but couldn't leave her house because she was preparing for the storm.
When her director, Garrett Beck, heard what she was going through, he knew he wanted to help. Garrett stopped his own storm preparations to buy some soft foods that he thought Pauline might enjoy and delivered them to her home to surprise her.
After the storm, Terrance Newson, Executive Vice President of EVS, spoke with Pauline. "She is the voice of the department," said Terrance. "She's worked at this hospital three or four times, having left in the past for higher wages or other opportunities. But each time she left, she always returned back to the HHS facility because she missed the culture and the relationships she had with HHS."
She told Terrance that she now knows that she wouldn't leave for money or any other reason—it's her permanent home. "To go through something as catastrophic as a category 4 hurricane and still have the commitment to the facility to get up and go every morning, stay overnight [through the storm], and lead the rest of that team—I was amazed," said Terrance.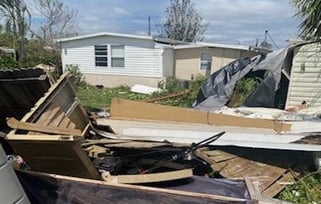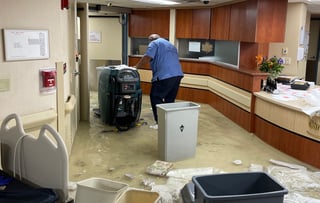 Pulling Double Duty
Christina Walsh works for the county as her primary job and works in the housekeeping department at a hospital in Englewood, Florida to supplement her income. During the storm, she was working at a local shelter that housed evacuated residents when the roof of the shelter began to fail. Christina worked tirelessly to relocate evacuees from the second floor of the building down to the safety of the first floor.
In the midst of the storm, Christina learned that her home had been completely destroyed and was a total loss. Knowing this, Christina opted to put all of her energy into helping others. After the storm had passed and the shelter was shut down, Christina reported to the hospital to provide relief support for the EVS team. She helped to clean the hospital and prepare it for reopening.
Christina sheltered at the facility and then spent a few days in a hotel. The HHS CareFUND and her on-site management team helped her find a new home. Melissa Yusko, Vice President of EVS, shares, "She had a lot of loss but still stepped up for us. I'm really appreciative of her and glad we were able to help her find a new home."
Fighting Back the Floods
Marie Brewer was a member of Team A at the same hospital in Englewood. With high winds and fierce rains, there was water coming in through the windows in almost every room at the facility. Marie used a wet vac to help control the water and minimize the damage to the facility. After the storm, she helped to evacuate the facility and ready it for reopening. "She really stepped it up with all that water coming in and helping to protect the facility," shared Melissa.
Marie's home was also lost in the storm. She spent several nights in a hotel and the HHS and CareFUND team worked to help her find more permanent housing.

Taking the Initiative
In Port Charlotte, one hospital was forced to evacuate the facility in the middle of the night when the roof became compromised and the fourth-floor ICU began taking on water. Suddenly, getting patients away from the incoming water became an urgent matter. Staff from across departments worked together to evacuate 170 patients as quickly as possible.
"We had floor techs, housekeepers—everybody just helping to transport patients," shared Ryan. "Chanthima Benning and Dennis Garvey jumped into action transporting patients from the flooded fourth floor down to the second and third floors without being asked. They followed everyone else's lead and took it upon themselves. It was one of those moments where everyone really sprung into action."
Roberto Ayala, a floor tech on the team, worked to control water flow so that patients could safely be evacuated by elevator. Water levels in the hallway rose to above his ankles and required non-stop work with a squeegee and wet vac. Other team members joined Roberto's efforts to build dams to contain the water.
A Passion for Helping Others
In Inverness, Florida, team member Brooke Ducan heard that Team A was going to be short-staffed due to a call-out. Knowing the work that lay ahead for her team, she volunteered to cover both shifts without hesitation. She prepared her daughter for the worst and told her, "Mommy has a great responsibility to help those in need."
Melissa was impressed by Brooke's dedication to helping others through difficult times. "Brooke showed up with a positive attitude and leadership skills to help out in any way she could. Thank you, Brooke, for your kind and caring dedication to others in need."
The HHS CareFUND provided financial resources to assist our teams with urgent needs to replace food, clothing, and other personal items. Following the storm, the CareFUND provided $10,700 in immediate assistance to help those who were most in need. The CareFUND is continuing to provide additional support to team members as they assess damage to their homes and personal belongings.