April 4, 2022
Thriving Culture and High Guest Satisfaction Secures the First Annual HHS Resort of the Year and Resort Director of the Year Trophies for Great Smokies Lodge
Tucked up in the Smoky Mountains of East Tennessee amongst four water parks and a world-class golf course is the Club Wyndham Great Smokies Lodge. "East Tennessee is just such a beautiful place [and] the Smoky Mountains have been one of the [most popular] destinations, especially with Covid because we're such a drive-in market. We're always sold out," Director Mike Sellge says. The Great Smokies Lodge operates at about 90% occupancy year-round and lends itself to a predictable and steady stream of work.
The HHS Resort of the Year and Resort Director of the Year awards were created this year and will include a traveling trophy, passed annually to the year's winners. President of Resorts Bill Rose said, "The winner for 2021 was a difficult decision as many of the resorts were deserving, but there was also a clear winner. This year's winner won because they improved guest satisfaction, went the whole year without an injury, had great customer relations, and continued to improve as a team."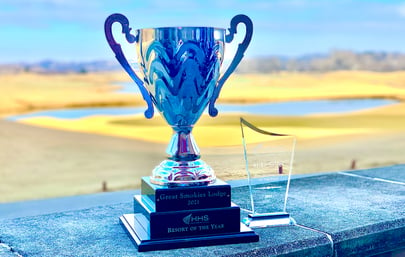 Director Mike Sellge describes his team as a well-oiled machine that works hard, takes care of each other, and keeps each other accountable.
"We've been able to hit all of our KPIs. We've been able to not only improve the scores, but our teams are happy, our financials are in good shape, and our productivity is good. We align ourselves with what is expected and we deliver on it. Understanding that you're running a business for someone else, we have to turn in results so whatever the expectation, our goal is to deliver that."
The Great Smokies Lodge housekeeping team consistently maintains a high guest satisfaction rate and has established a trusted relationship with Wyndham. "From the very first day, I said, 'We're your housekeeping department, forget that we're a contract company. What do you need from me for you to be successful?'"
One of the things that set Mike and his team apart is a supportive culture where team members can truly thrive and do their best work. This is not a team that is expected to check their personal lives at the door and perform. There is a level of flexibility, encouragement, and appreciation that so many find themselves searching for in an employer these days.
"Housekeeping works through love and not every leader operates that way," Mike shares. "I love this company. I love what it stands for. The people do what they say they are going to do. Everybody is very grounded, very down to earth, and [that] creates mutual respect."
While many within this market have faced the challenges of the nation's current hiring crisis, the HHS housekeeping team at Great Smokies Lodge has not. It can be attributed to the culture and more specifically, Mike's leadership.
Mike's team is predominantly made up of mothers and grandmothers. "Every interview I say the same thing: your family comes first, you come second, and the job comes third," he says. Mike and the other department leaders understand that life can be messy and work hard to maintain a level of flexibility that shows they have their team members' backs.
Mike's personal mission statement is "to create an environment where everyone looks forward to coming to work so that we can focus on the primary objective of improving the lives of the people that walk through our doors." This kind of culture lends itself not only to a better quality of life for frontline team members but also to more productivity, which translates directly into results for the customer.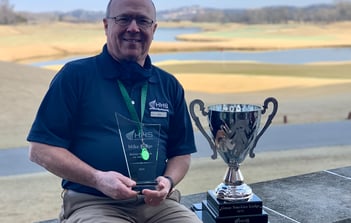 "Mike is a great leader that came to us with years of hospitality experience. He has embodied the HHS culture with his ability to balance the needs of the customer and HHS, challenging the status quo when appropriate, prioritizing his team members, and ensuring a great overall guest experience," explains Bill Rose.
When asked what advice he would give to other resort directors, Mike replied, "Bring out your inner cheerleader and recognize that your team needs you to be that. They need you to coach, they need you to lead. Don't distance yourself from the reality of what people's needs are. Coach your team and find out what it takes for them to work."
While Mike has extended the challenge that he fully expects this trophy to stay in its current home for 2022. He is also humbled by the recognition and beyond excited to see his team recognized, saying "it's really a team trophy!" HHS is very proud of Mike and the housekeeping team at Great Smokies Lodge.