July 10, 2023
Bethany Alexander's Leadership Skills and Dedication Garner High Praise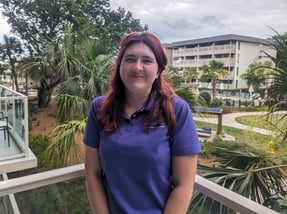 Bethany Alexander's journey with HHS began in January 2022, when she initially joined as a housekeeping inspector for HHS' resorts division. In just two months, her exceptional performance and leadership skills led her to earn the role of supervisor. Bethany has proven herself a valuable member of the HHS team at Great Smokies Lodge in her hometown of Sevierville, Tennessee, and has also become part of the task force team, which provides assistance to other resorts as needed. She epitomizes excellence in all she does and continues to impress HHS leaders.
Since assuming the supervisor role at Great Smokies Lodge, Bethany has been called upon to lend her expertise and support to several other resorts. Director Mike Sellge has been impressed by her enthusiastic willingness to assist others wherever needed. She has had a whirlwind of assignments at HHS accounts across the U.S. this year, including a recent trip to Hilton Head Island.
Bethany's exceptional work ethic and dedication have left every leader she encounters singing her praises. Director Mike Sellge speaks highly of her, stating, "We have numerous awesome team members [at Great Smokies Lodge], but Bethany is certainly one of those who has gone above and beyond to not only help us but improve the lives of others along the way."
Before finding her place at HHS, Bethany spent two years working in the hospitality and housekeeping industry. She honed her skills and gained valuable experience while being trained in various areas, including cleaning, ticket running, house attendant duties, and laundry.
At Great Smokies Lodge, Bethany helps the team to provide exceptional service and uphold the highest standards. She assists her leadership team, supports the cleaners, inspectors, laundry staff, and house attendants, manages paperwork, dispatches tasks, assists guests, and fosters open communication.
Bethany has found a great sense of accomplishment in being recommended for the task force and enjoys the opportunity it provides to travel and assist other HHS resort teams. Assisting guests, creating memorable stays, and fostering an environment that is fun and enjoyable for the team genuinely bring her joy. Bethany stays motivated by seeing the fruits of her labor in high guest satisfaction scores and the overall happiness of the team.
Bethany is quick to thank Mike and Assistant Director Trish Sanchez for pushing her to never give up and her fellow supervisors for the support they provide. Looking to the future, Bethany is confident she will be part of helping Great Smokies Lodge secure the Resort Team of the Year for the third year running in 2023! Outside of work, Bethany enjoys spending time with her cat, Marie, and partaking in hobbies of cooking, reading, hiking, gardening, and astrology.