July 18, 2022
Cleaning, Encouraging, Comforting: All in a Day's Work for Two HHS Housekeepers
A couple of months ago, housekeepers Xochitl Perez and Janeth Rodriguez were going about their cleaning duties at UCHealth Memorial Hospital North when they came across a patient's wife who was crying in the bathroom. Her husband had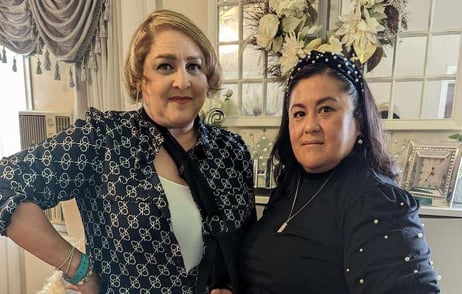 been taken back for surgery and she'd gotten lost and was unsure of where to go. Janeth, who does not speak much English, summoned Xochitl, and together they helped the woman find where to go.
The next day, they bumped into the woman again and she lit up when she saw them. "We asked her if she had anybody with her and she said no, she was alone," Xochitl explained. "We told her if she needed someone to talk to, she could talk to us."
That night, Xochitl and Janeth went above the call of duty and bought flowers and a stone engraved with encouraging words and gave them to their new friend. They continued to check on her throughout her husband's stay, always making sure she'd had something to eat and was taken care of.
At one point, a doctor came out to speak with the woman and found the Xochitl and Janeth there comforting her.
The doctor asked, "Are these your family members? Are they your friends... do you know them?" The woman replied, "No, but they are now. I met them when they saw me crying."
In awe of the care and kindness that Xochitl and Janeth provided, the doctor penned a letter to hospital and HHS leaders to share what he witnessed: "Our housekeeping staff had reached out to this young lady and provided a level of healing that I could not. It looked as though I had stepped into a family reunion, with hugs and tears all around. They stood in the corner while I talked to this patient about her husband's situation, and then came back to give her hugs and condolences as I turned to leave. I am amazed and inspired by the goodness of these heroes who responded and provided amazing compassion when it was needed most."
Both Xochitl and Janeth described the team they work with as an extended family that takes care of each other. "We look out for each other. Sometimes people haven't had a birthday party with their families so they have it with their work family," Xochitl shares.

EVS Director Steven Trotter said, "I can truly say this is the best second shift I've seen working for HHS. They're very tight-knit, hardworking, go the extra mile and I truly appreciate it."
It's no wonder that the way this team cares for each other spills out into how they care for the patients and visitors in the hospital. "We're not just here for cleaning. We're [here] for the patients and family members. It's very humbling to hear this story about [Xochitl and Janeth] being there for other people," Steven shared.