May 9, 2023
HHS Housekeeper Receives BEE Award for Providing Exceptional Care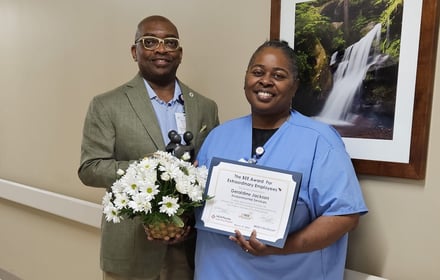 In 2020, Geraldine Jackson was living in Tallahassee, Florida, and working in retail at an airport when she was furloughed due to Covid-19. Shortly after she lost her job, her husband had a stroke and needed full-time care. Geraldine put everything into caring for him for two years until, sadly, he passed away in 2022. After the loss of her husband, she went back to her old job but found herself spending every weekend in Lake City, Florida, where her uncles and aunts lived.
Geraldine recalled feeling like God was asking her to take a leap of faith and move to Lake City to be closer to family and help with her aunt's church. At first, she resisted the idea, but the more she visited, the more she felt that tug. She started looking for jobs out of curiosity, and then an apartment fell into her lap. She knew she needed to secure work before quitting her retail job and fully committing to the move. She interviewed with HHS, was offered a housekeeping position on the spot, and started in December 2022. "Things move so fast in my life! But it just all fell into place and I knew without a shadow of a doubt that I was doing the right thing," Geraldine said.
Geraldine shared that she became interested in housekeeping many years prior and felt like God had put the spirit of service in her, but the timing wasn't right. But once she joined HHS, she was excited to learn and take on this new role. Her experience when her late husband was a patient gave her empathy and understanding for the patients she serves.
"I told one [of my husband's] nurses, 'You treat these patients as if it was you laying in that bed.' You don't ever think it will be you, but how would you want somebody to treat you if that was you laying in that bed? That's how you do them," Geraldine said of the inspiration she found at her late husband's hospital bedside.
Recently, a patient nominated Geraldine for a BEE Award at her hospital, which she was ultimately granted. The BEE award, which stands for 'Being Excellent Every Day,' was created in 2019 to recognize non-nursing support staff for extraordinary work and compassionate care. The patient who nominated Geraldine wrote, "She is a bright light in a sea of sickness. She took her time to make sure everything was clean. She left her card and a note that said 'God bless you and get well soon.' That really means a lot for someone to take the time to show kindness."
What do you love most about your job?
"The patients. Just how I see the Spirit of the Lord move in their lives. People can feel [your] energy, just what kind of spirit that you have. It's the people. I love people. I always want to be an encourager even if I'm not encouraged myself, I want somebody else to be encouraged. It just makes me feel good when somebody else is happy; feeling good. But it's the patients. It's the people that keep me going.
What are you most proud of?
"The praises from other people. I like the results when I'm cleaning rooms. I like to hear the patients say, 'Oh y'all keep these rooms so clean!' I'm proud of being able to help make somebody's life better and to make their stay better. We want to try to help make it easier on them by having a clean room, by treating them like family, having compassion for them, having the right spirit and the right attitude, and speaking with the right tone."
What motivates you to go above and beyond in your work?
"I would say the Lord and knowing what he would have me do. [The Bible] tells us to work as if we're working unto the Lord and not unto man. And that will help keep me motivated. How would I do the Lord's work? How would I treat him? What kind of spirit or attitude would I have towards him while I am cleaning his room?"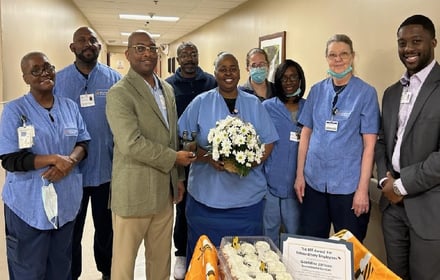 Geraldine is a very valued member of the team at her hospital even after just a few months. Director Raymond Spencer proudly shared, "I am blessed to have such an outstanding housekeeper. Mrs. Geraldine always goes above and beyond when rounding her unit. Patients have nothing but great things to say about her. She brings such joy to my day and to the department."
After the loss of her husband, Geraldine has found love again. She has remarried and got teary-eyed when she spotted her husband while she was being presented with the BEE award. In her free time, she enjoys spending time with her husband, being actively involved in her church, and learning both Spanish and French.