December 15, 2022
Compassionate Care Makes a Difference in the Lives of Hospice Residents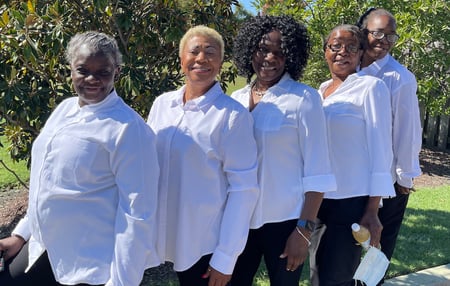 The stand-alone Methodist Hospice Residence in Memphis, Tennessee, is home to a very unique HHS team. Spearheaded by Culinary Director Anne Williams, is a group of people that show up to work every day with the goal of providing for the residents in any way that they can.
Anne explained, "We've had people come in who really couldn't afford to buy food. But would we let that stop us from taking care of them? No. Because we are a caring unit here. We care about whatever we're doing. We care about the patient, we care about the family members. We do it without thinking 'Oh is that a part of my job?' It's not a job here, it's a calling."
Keith O'Neill, the founder of HHS Culinary, worked many years within the Methodist Hospital System before joining HHS. "Methodist has been the lifeblood of my career," he said. The mission of the hospice residence is so near to his heart that Keith and his wife, Teresa, created an endowment that supports two hospice unit rooms year-round. Additionally, Keith had a large hand in pioneering the ambassador system when Methodist Hospice Residence opened in 2011. The goal was to create a style of service that would make residents feel as cared for as possible through the last phase of their life.
"They were looking for the Ritz Carlton type experience; the ultimate in hospitality. What we were trying to do was something more unique in the industry. We were gonna do both housekeeping and food service with the same staff. The idea with that is we'd create this ambassador position and that ambassador would then spend six, eight, or 10 visits in a day with that patient and really take care of that patient and all of their needs," Keith shared.
Kieth goes on, "The first thing that happened for us is we were able to recruit a rock star in Anne Williams and her sister, Carlin Jones. They were so compassionate for the patient and their family members. They did anything that the patient would ask for." Compassion was the heartbeat of Anne's team from the beginning and remains the same twelve years later.
Anne and the entire team of ambassadors know just how important their role is during end-of-life care. In order to provide the most peaceful transition possible for each resident, the team individualizes the care they give and takes the time to go above and beyond.
"Every patient that comes in the door… [if they are] not able to speak with us we talk to their family. We want to know what it is [we can do] to make this transition as easy and comfortable as possible. We can't take away grief but we can let them know that we care," shares Anne.
Anne described the time a young baby was in the hospice residence and the baby's mother had to continue working full time. "We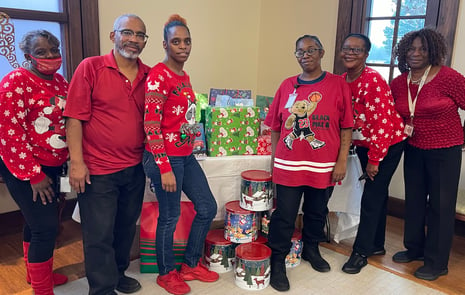 took shifts sitting with the baby, holding the baby, loving the baby so he would never feel alone while he was here," she recalled.
Other times, patients enter care with no family or loved ones to support them and the team will take it upon themselves to stand in that gap. "My team members will bond with that patient, hold their hands, talk with them, listen to them," Anne said.
Part of caring so deeply for these residents is walking through the grief once they have passed on. The team has a counselor who provides help in their healing and grieving journeys. Anne described this team as a strong community filled with compassion who care for their residents as well as each other.
"It takes a strong person with a very, very strong heart, compassion, and a will to work here. This unit is special, and HHS is blessed to have this unit. It's a very caring unit," Anne proudly boasted.
The O'Neill endowment will only continue to grow and help serve more and more patients. Anne is proud of her team and proud to be a part of what makes the Methodist Hospice Center such a special place.