April 8, 2022
EVS Team Recognized by Children's Hospital Parent and Family Council for Outstanding Impact
The EVS team at M Health Fairview Masonic Children's Hospital was recently awarded a unique honor given annually by the hospital's Parent and Family Advisory Council (PFAC).
The Impact Award was created in 2020 to celebrate the healthcare workers who are driven to discover new ways of supporting patients and their families. Natalie Bushaw, Chair of PFAC, describes the award process: "Recipients are nominated and voted on by the council — volunteer parents and caregivers of children having inpatient or outpatient treatment at the hospital. Over two decades, [PFAC] has acted as a bridge between patient families and hospital staff, advising leadership and advocating for responsive parenting."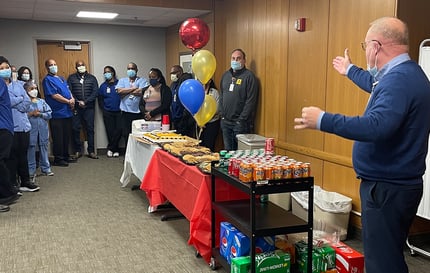 HHS Executive EVS Director Ron Burke got emotional when speaking about his team and how proud he was to see them recognized for the value they bring to patients and their families. "I don't know that I have ever had a prouder moment," he said, "than when they handed it to us. The idea that these parents — for them to recognize the work that went behind the past two years of making sure their kids were safe, making sure that they didn't get sick, and understanding that my staff had kids too, was pretty cool."
The Importance and Impact of EVS
EVS is an essential piece of the care team at Masonic Children's. The importance of maintaining a safe environment for these children and their families cannot be overstated. "We know that the work of environmental services isn't glamorous and can be downright filthy, but the work is vital and is not taken for granted by our Parent and Family Advisory Council," Bushaw said.
But this team doesn't just clean, they care. "I don't think you could treat them as just housekeepers," Ron said. "They take ownership over their floors; it's an extraordinary team. I have [team members] that will literally sit down on the floor with patients and play cars or play dolls with them." Many of the children at the hospital have to spend extended amounts of time away from their homes and families. Consistent, friendly faces can bring comfort and joy during a difficult time. Team member Gregory Watson's sweet friendship with a four-year-old patient even went viral a couple of years ago because of the impact it had on the boy and his family.
HHS Vice President of EVS Polly Edgett gained personal experience with this EVS team when her son was hospitalized at Masonic Children's for five days. She described the team as "incredibly kind, thoughtful and helpful to the patients and family members." She went on to share: "Their thoughtfulness goes beyond just doing the daily cleaning. The women who came to clean his room were so unbelievably considerate, sweet, and gently talkative, and asked me if I needed blankets, pillows, towels, etc. They provided what felt like a concierge housekeeping service. They engaged my son and made sure he was comfortable, while still completing their daily cleans."
Strength in Cultural Values
The hospital is located near downtown Minneapolis amongst a diverse population including many immigrants. Ron estimated that his staff is comprised of about 70-80% first-generation immigrants from Somalia and Ethiopia — two countries known for their warm hospitality and generosity. These strong cultural values add to the team's ability to care for patients and their families. In addition, many members of the team are parents themselves, so as Ron says, "they have a vested interest [and] definitely an empathetic way of doing things."
The team also enjoys a tight-knit camaraderie because of their shared culture. Ron explains "we have a potluck like once a week, and if you can't go then four or five people bring you plates of food. [They're] extremely caring and giving people."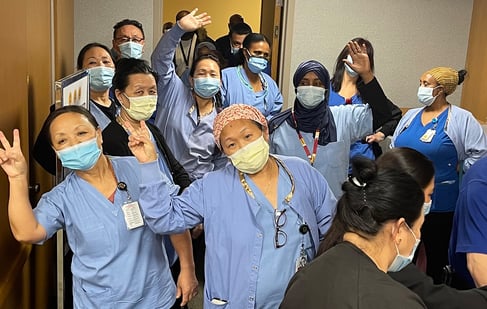 This team has not faced the staffing challenges that have been plaguing the industry, but they have had their own unique challenges due to the constant changes attributed to COVID-19. Because English is the second or even third language of many team members, communication has been key in overcoming these challenges. "We've developed a culture here [where the team can] ask anything and get a straight answer," says Ron.
There is a high level of trust amongst the entire team, and it is clear that is a central part of their culture. "My team are heroes to me daily. They do their jobs to the best of their ability with many different variables thrown at them day after day. I am very proud to be leading this team of great people. They experienced extreme joy when they were awarded and are very proud to be Environmental Service team members at Masonic Children's."