January 17, 2022
2021 HHS Team of the Year: Conemaugh Memorial Medical Center
Seven years ago, HHS began the tradition of recognizing one team as the HHS Team of the Year. The awarded team is chosen based on their ability to exemplify HHS' core values and their demonstration of outstanding operational performance, work ethic, and customer service. Oftentimes, the Team of the Year has also overcome extreme adversity, yet prevailed through resiliency and support of one another.
In 2021, one team exemplified all these attributes and achieved tremendous outcomes in retail sales, patient and customer satisfaction, safety, and operational results, all while navigating the COVID-19 pandemic. The recipient of the 2021 HHS Team of the Year is the culinary team at Conemaugh Memorial Medical Center in Johnstown, Pennsylvania.
William E. Caldwell, Market President at Conemaugh Health System, shares, "We are so proud of our colleagues for being recognized with this incredible and well-deserved honor. Our culinary team consistently delivers exceptional quality and service to our patients, visitors, and personnel. Their collective accomplishments through the challenges of a global pandemic are remarkable and a great source of pride within our larger Conemaugh Health System family."
The team at Conemaugh are no strangers to overcoming adversity, as they faced major challenges in 2019 during their transition period and again in 2020 when the pandemic began. In 2021, they were operating with a 30% to 40% staff deficit, and yet, as Executive Vice President of Culinary, Alan Hawley says, "you would never know from the way the unit operates." Behind the scenes, this team is juggling a multitude of challenges, yet their patient satisfaction, team member satisfaction, and retail sales continue to grow.
Three Years to Excellence
Tonya Spada-Dixon, RD, LDN, culinary director at Conemaugh, describes 2019 as the year of transition, 2020 as the year of process change, and 2021 as the year of the details. In 2019, HHS took over the culinary contract at Conemaugh Memorial Medical Center and faced several challenges with patient and team member satisfaction. After successfully navigating these issues, Tonya set her sights on perfecting the processes in order to meet her goal of being the best in practice across all HHS culinary teams. She utilized tools from the Lean Six Sigma approach to lead her team towards efficiency and success, finding the root cause of dissatisfaction, listening to the voice of the customer, and adjusting accordingly.
Of course, 2020 was also the first year of life in a pandemic, but Tonya didn't default to survival mode or let that slow them down. They continued to work on the process changes despite the pile of new challenges. And finally, in 2021, they started hammering out the details, fine-tuning, and perfecting their processes. Again, all while being understaffed.
Building Positive Team Culture
At a team huddle, Tonya asked the question, "Why do you come to work?" "A lot of what we expected [to hear] was 'for the paycheck,' but that was never the answer. The answer was 'because I love what I do and I love taking care of the patients,'" shares Tonya.
It is easy to notice that the leadership team is a huge reason why team morale is at an all-time high. There is nothing these leaders are above doing and they often jump in to fill needs on top of their other responsibilities. "Our team members know that they are an extension of HHS. They're an extension of me. There is a lot of respect given and received but they also know I won't ask them to do something that I haven't done or they haven't seen me do," states Tonya, "They know that this isn't a top-down leadership, that this is servant leadership. And they know that we're going to do this all together." It is clear that the Conemaugh frontline team members feel valued, respected, and supported, enabling them to be the absolute best they can be at their jobs. That's why in 2021, team member satisfaction at Conemaugh was at 96.02%.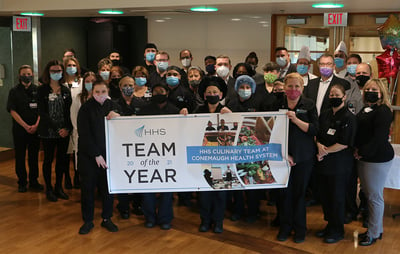 Growing Patient Satisfaction and Customer Experience
In 2019, Conemaugh saw a drop in patient satisfaction during the transition to HHS. The changes felt a little too radical for many. For patients, food is part of the healing process and one of the few choices they get to make while in care. "Patients [today], have much more diverse palates," mentions Alan, "they know what good food tastes like." The team worked very hard to get to the root of the dissatisfaction and figure out exactly what patients do and do not like. In 2021, the team served between 25,000 and 26,000 patient meals per month. Tonya says, "we want them to have restaurant quality, feel, taste, and exposure."
In addition to patient satisfaction, the Conemaugh culinary team has also built an incredible experience for the customer. In 2021, they increased retail sales by three percent. Local community members even come into the hospital for no other reason than to have a meal. The team offered take-home meals for purchase in the height of virtual learning for local students, celebrated the summer Olympics with different cuisines from around the world, and provided free meals at Christmas and Thanksgiving for employees, first responders, EMS, military, and family members of the hospital staff.
Training HHS' Culinary Leaders
In April 2021, Conemaugh became a training facility for HHS culinary managers from across the country. "You want our future leaders to train at the place you know really goes above and beyond our HHS core values and I have to say, without a doubt, Conemaugh really supersedes what we ask, every day," said Alan about choosing Conemaugh to be a training facility. Conemaugh is HHS' largest culinary healthcare operation and functioning as a training facility is really a natural progression for them.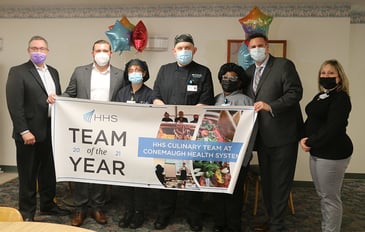 Conemaugh hosts one to four trainees every week, providing hands-on coaching to new assistant directors, directors, chefs, vice presidents, and members of the business excellence team. They welcome the new individuals, set them up with resources to be successful, and coach them on best practices and HHS standards. Frontline team members have an active role in the training of new managers as well. They walk them through their daily routine, give them insight into their processes, and provide them with hands-on experience that is crucial for development.
Ali Curtis, an HHS culinary director, said this about her experience training at Conemaugh, "I learned so much and it brought a new sense of motivation and drive to meet and exceed the HHS standard." And this is exactly the goal that Tonya strives towards, to be the best so that those who train with them leave with the motivation to replicate their success.
"The team really exhibits the HHS [values] and I see that every day reflected by the managers who came through [Conemaugh] for training," states Dirk Noteboom, RD, President of Healthcare Culinary and Senior Living.
Exemplifying HHS Values
One of the stand-out values of the culinary team at Conemaugh is their dedication. The leadership is dedicated to their team and the patient, which shows through the servant leadership style they live out, and that dedication trickles down to the rest of the team members in their day-to-day work.
"There's a vision, and everyone sees what the vision is and knows the vision we're striving for and it just comes through in what they do every day. How they come in ready to work, how they take pride in the job they do every day. Those are the things you just can't teach," shares Alan Hawley, Senior Vice President of Culinary. "Our team members spew that passion when they come to work every day and it's because they see the level of commitment that everybody has here. It starts with the leadership that has brought this account to where it is today."
Tonya emphasized, "[The team] is dedicated to this community, they're dedicated to this organization, but we also see the dedication to the patient and the management team as well." This level of dedication, in a time that is so riddled with challenges, is rare and very worthy of recognition and honor.
Tonya celebrates her team, "I can't speak more highly of my team. I am so proud of them. I am so proud of what they do every day. I am so proud of their resilience. They are so deserving of this and I am just so very proud of them and the work they do, not only for HHS and Conemaugh, but most importantly for the customers, patients, and visitors. I just think they are so ideal."
Celebrating the Team
HHS CEO Bobbly Floyd, President of Culinary Dirk Noteboom, and Senior Vice President of Culinary Alan Hawley traveled to Johnstown, Pennsylvania, on January 6th to present the 2021 Team of the Year Award to the culinary team at Conemaugh Memorial Medical Center. Conemaugh Health System Market President William E. Caldwell and Vice President of Ancillary and Post Acute Services at Conemaugh Memorial Medical Center Tony Campagna were also in attendance during the announcement.
"The dedication of the HHS culinary team at Conemaugh Memorial Medical Center is commendable, and I'm humbled by their resiliency and commitment to one another and the patients and staff at the facility," shares HHS CEO, Bobby Floyd. "Their achievements this year represent the quality and high level of service we all strive for at HHS."
HHS President of Healthcare Culinary and Senior Living Dirk Noteboom, RD, expands, "Every single person in the [culinary] department at Conemaugh is deserving of this award. The passion that they put into caring for their patients, visitors, and staff on a daily basis shows. It shows in the food they make, it shows in the way they greet people, and it shows in the metrics that we [at HHS] look at to determine success. Thank you so much, [team], for what you do each and every day."
Sharing What This Achievement Means
"It was such an honor to receive this award. All of the hard work has paid off. It was awesome that the CEO came to spend time with us." - Lisa Sprowl, Baker
"I was very shocked that we won this award, but we have worked hard for this recognition." - Renee Jeffreys, Lee Campus
"[I was] very touched. It meant a lot to be appreciated by people that don't know us. Bobby coming all the way from Texas meant so much." Jason Johnson, Cook