December 14, 2018
Team of the Year: HHS Culinary
The culinary team within the healthcare division has been named as the HHS 2018 Team of the Year. The culinary team has seen great growth over the past year. To learn more about the team's success, we sat down with several of the service line leaders to learn more about what has made the team successful.
Who do you think deserves credit for the growth the culinary team has experienced over the past year?
Dirk Noteboom, President of HHS Culinary: Honestly, I think everyone on our team deserves credit, from our hourly team members that serve our patients every day, to our managers and our clinicians who help ensure that product and service is maintained and oversee our operational initiatives, to our regional chefs and vice presidents who execute those plans and help to ensure that roadblocks are taken down so we can be successful. In addition, we have a lot of help from corporate—from marketing, sales, IT, and finance—and without those support pieces, we couldn't be successful and we wouldn't have been able to roll out the initiatives that we have.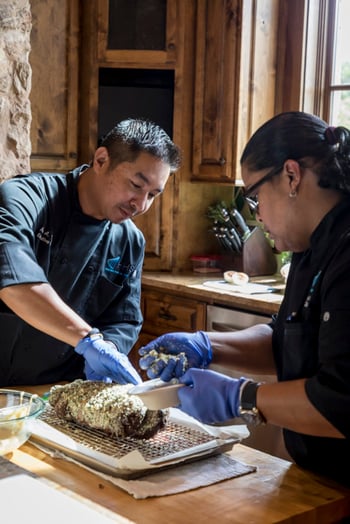 Tell us about some of the partnerships that HHS has formed to support our food philosophy.
Dirk Noteboom, President of HHS Culinary: Our food philosophy started several years ago and we've really delved into what that means to HHS and how it evolves. Our philosophy starts at the beginning with our vendors, for example Joyce Farms, a supplier of meats and poultry that sustainably raises animals and uses regenerative agriculture.We've also partnered with Community Coffee, which is a fair-trade practice organization, so they have the ability to make sure farmers are receiving fair compensation for what they do, and they manage that process from start to finish. They have both been excellent partners with us. As our food philosophy continues to develop, people who have been with the company for some time know that we started by making a commitment to cage-free eggs, then went to sustainable seafood, and now we've really gotten into the [Global Animal Partnership] GAP-certified products that are out there. We continue to look for partners that believe in our food philosophy, that enhance our programs, our health and wellbeing, and the health and wellbeing of our clients and our patients.
Tell us a little bit about your commitment to "respect for food."
Marta Hernandez, Vice President of HHS Culinary: Respect for food means approaching it with sound culinary methods. If you're roasting something, roast it correctly, if you're poaching something, poach it correctly. It's important that we cook with integrity because food is part of the prescription for the patient and vital to their healing. So we really need to look at things from a perspective that every single dish that we prepare for a patient is going to a family member of ours. What we do is very rewarding because we're part of the healing process.
What are you most proud of over the past eight years with HHS Culinary?
Keith O'Neill, Founder of HHS Culinary: Obviously I'm very proud of what we've built. I think it surprised a lot of folks in the industry that we had the growth that we've had. But there's probably two or three things that I'm proud of the most. One is the fact that we've gotten real respect from our competitors. In the beginning, we were probably an add-on and nobody really worried about us, but now, after eight years of going head-to-head with these guys, we've received great respect. The other thing that makes me really proud of what we've done is the talent and the people that are leading our teams, as well as the teams themselves. We built the service line on a passion for quality and service, and we've been able to recruit and retain top talent that's allowed us to follow up with that mission. The third thing is the fact that we really do what we say we're going to do. We have great partnerships, we take care of our clients, and in healthcare it's all about taking care of the patient, and I think the people that have joined our teams have really followed that mission.
A lot of the growth that has occurred within the past year has been specifically in your region. Tell us about the team you've worked with this year.
Sean O'Neill, Vice President of HHS Culinary: There's probably not a better group of team oriented or dedicated individuals that I've worked with in my career. The success of a lot of our startups is really to those guys—the frontline team members, the managers, the corporate team, and the traveling team. The partnerships and the camaraderie has been outstanding. It hasn't just been those in my region, but everyone has come together to support each other and to support the company's growth. It really embodies a true team atmosphere that HHS has built.