June 6, 2022
Growing with HHS: From Project Tech to Director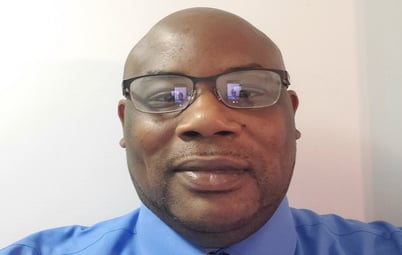 Julius Grant will celebrate his 10-year anniversary with HHS next year. He began his career as a project tech at an account in Meridan, Mississippi, where he was born and raised. After six months on the job, he was promoted to a supervisor role and two years later earned a promotion to director. "As a director, I was able to further my knowledge about our organization's mission and goals and build relationships with our hospital partners. During that time, I was also able to drive positive outcomes, and create a positive culture for team members," he shared.
He eventually was given an opportunity to oversee the EVS department at a 250-bed hospital in Missouri. Thanks to his work in building a strong partnership with the facility administration, he was able to help HHS obtain the culinary contract with that facility as well. In May 2018, Julius transitioned to a large facility in Nashville, Tennessee as operations and project manager where he helped to strengthen the facility's floor care program. Leader of Business Transformation Donny Mitchell said, "Julius was instrumental in helping us figure out how to use Medama. He had a lifetime of experience in floor care that helped us over come numerous obstacles along the way."
After three years in that role, Julius transitioned to a support manager role in Virginia, followed by a promotion to director at an account in Lebanon, Tennessee. Julius' desire to learn and grow and his wide array of experience with HHS has made him very successful. He gives much credit to Leader of Business Transformation Donny Mitchell for his growth, saying, "Donny was a true support for my development. He was huge help in teaching me how to deal with stress, how to read operations files, and how to manage my time to ensure that quality outcomes are being meet."
Throughout his career path, Julius has been driven by the people on his team and the ability to be a part of their own success stories. When asked what keeps him motivated he answered, "Being able to train and develop our team members and managers, while serving the community." He is a great mentor to his team and has promoted five hourly team members to supervisor or manager roles.

What advice would you give your fellow team members?
"Be humble and always give a 100% every day. Make sure that you communicate and follow up. Make sure that you are appreciating and recognizing your [fellow] team members for the hard work they do every day. Always smile and come to work with a positive attitude and control your controllable."
What do you enjoy most about working with HHS?
"The opportunity that the organization gives you to grow [in your career] and how the organization centers itself around being excellent. And our great training program!"
When he isn't working, Julius enjoys watching sports and spending quality time with his wife, Donna, and their two children, Jada and Joshua.