September 19, 2022
HHS Culinary Director Overcomes Impossible Challenges to Find Success
When Tiffany Archibeque was 11 years old she became homeless. With her parents in prison and her grandmother already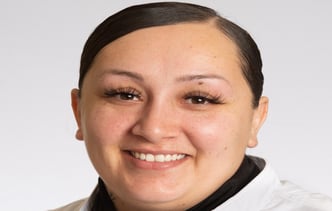 overwhelmed with the care of Tiffany's siblings and cousins, she had nowhere to go.
"I ended up having to figure out life on my own. It was hard but I was able to survive. I was able to go to school, find places to sleep, and find places to eat. I remember a lot of nights telling myself, 'When I am old enough [things] are gonna change, this is not gonna be [my life],'" Tiffany shared.
Tiffany kept that promise to herself and changed the trajectory of her entire family's future. When she was 18 she was granted custody of her six-year-old sister and five-day-old niece. And then she started college.
She went on to earn six associate degrees in applied sciences in the culinary and hospitality field and a bachelor's degree in hospitality and tourism, all while working full-time and taking care of her children. Tiffany's hard work and positive attitude were recognized and rewarded by those around her. In the midst of earning her degrees, one of her professors offered her a job in the bakery they owned and Tiffany excelled at helping run that business.
"I learned a lot and I ended up going pretty far in the cake industry. We did 40 to 50 cakes a week. Anywhere from $40 cakes to $10,000 cakes. I had a lot of fun. All the jobs I have had have always been fun. It never feels like work," she said.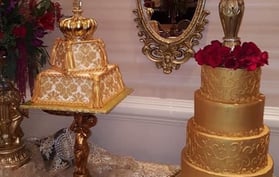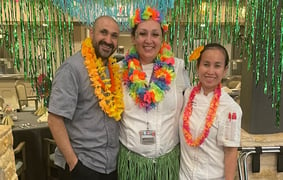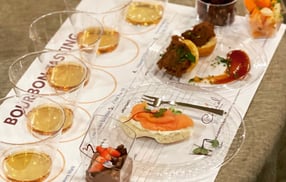 Along with Tiffany's propensity for high achievement lies her very competitive nature. She has taken part in many competitions in the culinary arts field over the years and won many medals. As with many of her achievements, her primary goal in competing is to set an example for her children. "I want my kids to see that no matter what background you come from, no matter what cards you're dealt in life, you can always succeed if you have determination and motivation. Then anything you want you can get," she reveals.
Five years ago Tiffany moved from New Mexico to Texas and began working in the senior living industry. In January, she accepted a position with HHS as director of culinary at a senior living facility in Coppell, Texas. She currently commutes six hours a day until she is able to relocate there. But she loves what she does and that makes it all worth it.

If you were tempted to think that Tiffany's talents stopped with cooking and baking, you'd be very wrong. In her spare time, she has also become a licensed tattoo artist, barber, and cosmetologist. She has even used her skills to serve residents. "When we got locked down in my facility [during the pandemic], I was able to give my residents haircuts and manicures. You could see a lot of [their] depression [during lockdown]; they weren't able to see their families. So I was able to give them a little bit of hope and make them feel pretty again. It made me feel good," Tiffany explained.
Because of Tiffany's determination, dedication, and will to succeed, she has not only drastically changed her own life but has also greatly impacted the lives of her siblings, cousins, nieces and nephews, and her own children. And she uses her success to give back to them.
Tiffany proudly proclaimed, "I was the first person in my entire family to go to college and graduate. I was the first one to graduate with multiple degrees. It has led to my [family members] reaching out [and asking], 'Hey can you help me sign up for college?' or ' Can you show me how to register for courses?' So now in my family, we have nurses and CNAs. My sister just graduated with her commercial driver's license and she's a truck driver. My other sister is the head of a church. So we have had a lot of success in our family. I feel like all of our children are set up for bright futures."

When asked what advice she would give to others who had a similar start in life, Tiffany said, "Just do it. It's gonna be hard, nothing that has come to me has ever been easy. Everyone starts somewhere. You set some goals, [take] some small steps, and you just keep hitting them. Find something that motivates you and use that anytime it gets tough. I've learned that anytime I stressed out about something, I'd look back [and see] it led me to something else. Go with the flow, it's gonna work out."