August 11, 2023
Rising Star in Staffing: Claire Greer Achieves 100% Customer Satisfaction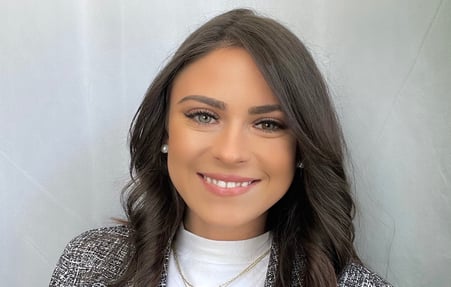 Claire Greer has found a place for her talent to shine as director of staffing at HHS' subsidiary, Connect Candidate Staffing (CCS). She earned both a BBA and MBA from Texas A&M Corpus Christi with concentrations in the healthcare industry while picking up leadership skills as the after-school director at her local YMCA.
In 2019, Claire accepted her first position at HHS as an Environmental Services (EVS) assistant director at a 500+ bed hospital. Gradually, she moved through the roles of operations director, regional manager, and eventually EVS director. As a regional manager, she played a pivotal part in developing the HHS recruiting team, a legacy that continues to provide valuable staffing support.
During the height of the COVID-19 pandemic, Claire managed temporary employees and contracted staffing at a nearby hospital. This experience kindled her interest in becoming part of the CCS team.
Claire now oversees a comprehensive array of recruitment and staffing processes, managing ten distinct operations across five states and a team of over 100 employees at CCS. Her demanding role requires great precision and efficiency to maintain smooth operations. She has managed to do exactly that and achieve an impressive 100% customer satisfaction score along the way.
Claire believes communication is at the core of her success and earning that perfect score. She explains, "I firmly believe in being authentic and transparent, never suppressing my true personality. My approach to communication revolves around active listening, openly expressing challenges and concerns, and offering suggestions when appropriate. By maintaining this open dialogue, I strive to foster a strong rapport with my customers, allowing them to feel at ease when communicating with me and viewing me not just as a client but as a trusted partner. Building such relationships is instrumental in creating a collaborative and productive environment where we can work together towards shared success."
Claire's experience in managing her own EVS team has been a cornerstone in successfully staffing customer departments. "I fully grasp [how critical] it is to assemble a dedicated team of employees to ensure the seamless operation of any business, maintain exceptional customer satisfaction, and deliver top-notch services," she offers.
Passion for Work, Love for Life
Claire's professional motivation stems from her personal passions of nurturing her mind, pursuing growth opportunities, and making a positive impact. She is deeply driven and invested in her development with a goal to attain the position of Vice President, where she plans to drive operational excellence and customer growth.
She credits her carefully maintained work/life balance for helping her be effective and enthusiastic in the workplace. "By nurturing my passions, fostering relationships, and seeking growth opportunities, I am better equipped to approach my responsibilities with renewed energy and dedication," she says.
Advice to Fellow Team Members
Claire emphasizes empathy and a customer-centric approach, mentioning, "This enables you to better understand their needs, concerns, and expectations, and allows you to provide better solutions and [high] satisfaction. These qualities reflect a strong work ethic and commitment to delivering the best possible outcomes, which can lead to long-term success and positive relationships with customers and colleagues alike."
Leadership, Commitment, and Inspiration
Claire's admiration for the leadership structure at CCS is obvious. Her respect for the company's values and leadership's involvement in developing future leaders have been central to the fulfillment she finds in her position.
"From day one of joining CCS, I experienced an overwhelming sense of support, guidance, and patience while learning the company's practices, procedures, and standards. The atmosphere of encouragement and willingness to mentor has been invaluable in helping me settle into my role and perform at my best," she shares.
Her colleagues at HHS, CCS, and the countless individuals she's impacted over her career can attest to Claire's remarkable achievements. Vice President of CCS Matthew Wright said, "Claire's unparalleled commitment to our customers, our team members, and her peers has made her invaluable, and we are lucky to have her as part of our team." From her early beginnings to her current role, Claire's story is a testament to her ambition, dedication, and passion.