November 20, 2023
HHS Culinary Team at Baton Rouge General Hospital Sets the Standard for Innovation and Community Engagement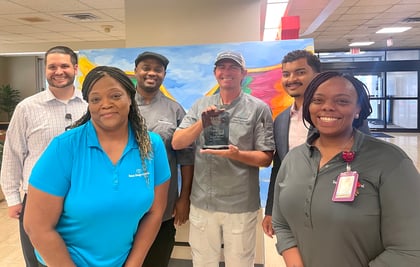 The culinary team at Baton Rouge General Hospital is a testament to the power of community, dedication, and compassion in the healthcare industry. Under the guidance of Director Thomas "Joe" Voiselle, a native of Louisiana with a rich Italian-French heritage, this team embodies a culture of service and care that extends beyond the kitchen. This culture and their resulting success led them to be named the 2022 HHS Culinary Team of the Year.
Joe learned the basics of cooking as a child from his grandfather, so a career path in the food and restaurant industry was a natural progression. He joined Baton Rouge General Hospital as a retail manager in 2013, eventually working his way up to culinary director at the same hospital. Joe's vision as director is to infuse the healthcare setting with the same passion and quality one would expect at a high-end restaurant while fostering an environment where his team thrives personally and professionally.
This ethos has resulted in an impressive 75% employee retention rate and consistently high team member satisfaction scores, largely due to Joe's leadership style, which he describes as hands-on, empathetic, and family-oriented. He is a director who dons an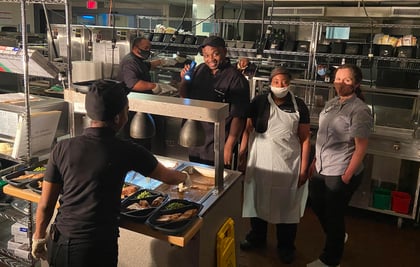 apron and wants to work shoulder-to-shoulder with his team. His approach has cultivated a culture where each member feels valued, from the dishwasher with over 40 years of service to the sous chefs crafting dishes that compete with the city's best restaurants.
The team has an impressive record of competing against some big names in the vibrant, Louisiana culinary scene, often placing at these culinary competitions. Joe exclaimed, "It never gets old when you see these chefs [who are] in magazines and newspaper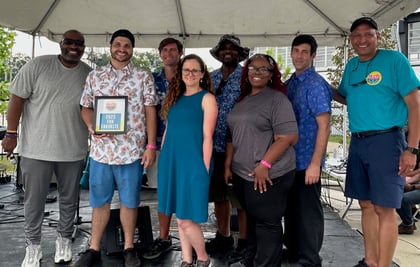 articles and getting social media recognition… When you can go out and beat them? It's fun!"
When they aren't rivaling top chefs, the Baton Rouge General culinary team has made significant contributions to the community. Every summer, the team partners with the Pediatric Burn Unit's Survivor Camp, providing all the meals and snacks for staff and campers as well as facilitating cooking competitions and activities for campers. They have also partnered with local schools to educate students on culinary careers available in the medical industry.
The team's successes extend into their innovative culinary practices. They've embraced health and wellness initiatives, integrating non-inflammatory diets into their menus, and redefining hospital food with dishes that promote patient recovery and staff well-being. This commitment to health has had tangible benefits, contributing to zero increase in health premium rates for hospital staff for seven years. Joe explains, "In the long run, this makes for a healthier customer, which for our client, it's good, because the healthier [the staff], they're less likely to get hurt. They're more engaged. They don't have sugar crashes, which [leads to] better results for the patient."
In the coming year, the team aims to refine its patient care approach further, focusing on quality assurance and staff support. Joe's vision is to continue nurturing his team's growth, ensuring that as he grows, so does every member of his culinary team. "It's a goal for me personally to make sure my team has the opportunity to be the best [they can be] and achieve [their] goals. If they don't have the resources or the knowledge yet [to do so], I want to help them," Joe passionately shares.
Baton Rouge General Hospital's culinary team is an outstanding example of what it looks like to live out HHS' core values. They aren't just feeding patients; they're nourishing souls in and out of the hospital and doing so with great pride in their work.