October 14, 2021
Success Story: Gonzalo Villegas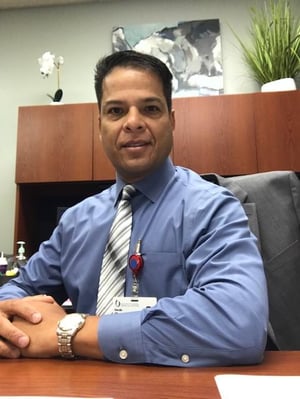 Originally from Barquisimeto, Venezuela, Gonzalo Villegas' cultural and linguistic abilities have been beneficial to him in his career with HHS. He joined the company in 2008, serving as the assistant director (AD) of EVS in Hattiesburg, Mississippi. His strong work ethic and ability to communicate and relate to the team members propelled his career. In the last 13 years, he has been promoted nine times! Follow along as we explore his HHS journey.
Gonzalo's Career Journey
Just two months on the job at his first account in Hattiesburg, Mississippi, Gonzalo was offered an AD position at a facility in nearby Meridian, Mississippi. Gonzalo's leadership team took note of his exceptional performance, and he soon received a promotion to PM director back at his facility in Hattiesburg. As he continued to grow and learn the industry, he was promoted once again in 2012 to director of EVS in Tomball, Texas. This was his first experience in a start-up account.
From there, he moved to his second start-up account in San Antonio, Texas, and relocated to assist at another in Houston, Texas. Gonzalo's willingness to relocate, his successes, and his ability to speak both English and Spanish brought him an exciting opportunity to help with HHS' first international account in Santiago, Chile. Shortly after, he returned to Texas, where he helped start up another large account in Houston, Texas.
Gonzalo found his niche in helping new start-ups, and for the next five and a half years, he traveled across the country supporting HHS' start-up growth. Most recently, Gonzalo was promoted to executive director of EVS at the University of Mississippi Medical Center.
What motivates Gonzalo to continue to grow his career?
"I enjoy being able to teach and pass on HHS' knowledge and procedures to all the new managers that come through my account. I enjoy seeing them become successful in their accounts and knowing that I taught them and helped get them there. I also really enjoy working with people and building positive relationships — with our team members, managers, corporate-level executives, and our hospital partners."
Gonzalo owes his success to his HHS mentors Scott Alexander, Tommy Allred, Jerrod Tallo, and Boyd Schultz. "They have all mentored me more than they know."
His Advice to the Team
"Lead by example, treat everyone the way you would like to be treated (especially your team members) and follow up. Always close the loop!"
Gonzalo is married to his wife Kassidy of 14 years. Together, they have a son, Logan, who will be turning six this year. Gonzalo has lived in the United States for 21 years and became an official U.S. citizen in 2015.
"I believe HHS is the best company of its type because of our systems and processes. When our systems and processes are in place, everything is accounted for, and you can be proactive instead of reactive."
Tag(s):