March 14, 2022
The Patient on the Third Floor
As Ardra Jones was completing rounds as a patient experience regional director at an EVS account in Florida, a patient on the third floor stopped her and said, "I need to talk to you!" Ardra initially thought something had not met the patient's expectations. But instead, the patient wanted to tell her what it meant to him to be so well cared for by the housekeepers and patient ambassador during his stay.
Excellence in EVS
The patient said to Ardra, "I need to let you know that Milin is doing her job! [And] Evelyn comes in here and is a ray of sunshine." He went on to explain that he is struggling with incontinence and another housekeeper, Joe, cleaned up after him three times and never once made the patient feel ashamed of it.
The patient said he knows that housekeeping doesn't usually get the recognition they deserve and he wanted to make known just how meaningful their care had been. Ardra explained, "Joe and Evelyn listened to him. They talked to him. They smiled at him. They asked if there was anything that he needed. The patient told me, 'They treated me like I'm family.'" The patient had been in the hospital for weeks without his family and it was the HHS EVS team members that made him feel like he wasn't alone.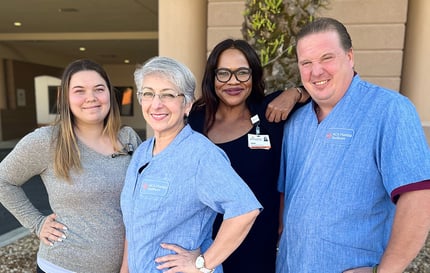 Cared for at All Levels
It so happened that the next day, President of EVS Chris Burciaga and Executive Vice President of EVS Greg Crandell were visiting the account and Ardra made a point to take them to the patient's room. Ardra invited other members of HHS and hospital management along with Milin Ocampo, Joe Letteri, and Evelyn Perea to join them as well.
The patient had been traveling cross country when he landed in the hospital, so he had no family in the area. He told Greg how impressed he was with the HHS team: "They were so engaged with him and so caring that it touched him and wanted everyone to know she made a huge difference during his stay."
Ardra observed that everyone in the room, whether executive or housekeeper, was on the same level. Everyone was equally moved by the patient's words. The patient was able to walk away from this experience having been cared for with dignity and respect by everyone he came in contact with at HHS.
What Makes HHS Successful
Evelyn has been a housekeeper at the hospital for 20 years. Milin joined HHS after having experienced life in the hospital when her son had leukemia. She wanted to make a difference. And after 15 years as a firefighter, Joe became a housekeeper at the very hospital where his father passed away.
"These three are doing their job and they're going overboard with it. Because if someone feels like family while [you're cleaning] their bed rails, you're pretty amazing," Ardra raved. "Milin is a rising star, she's a go-getter. Evelyn is one of the trainers here and she takes her job very seriously." Joe told Ardra recently that after his father died he has made it his goal to make everyone he comes across feel good. "He told me, 'It's my job, it's my duty."
Evelyn's husband has also spent a significant amount of time in the hospital which has given her a lot of empathy for her patients. Having been on the other side with their loved ones in the hospital, extending kindness, love, and respect comes naturally to these three.
"I need people to shine a light on the housekeeper… becoming the patient experience regional director, working with the housekeepers, I'm humbled. I am humbled by the spirit of the housekeepers. I am grateful to be in this seat. They're just amazing," Ardra exclaimed.
When asked how it felt to be recognized by this patient surrounded by managers and executives, Milin said, "It felt good to know that I can make a difference because I [never] know what the patient is going through."