November 14, 2023
Elevating Service Through Diversity: HHS' Impactful Collaboration with Warrior Outdoor
HHS leverages the power of diverse partnerships to enhance the quality of our services while driving down costs and fostering innovation for our customers. But it's more than a strategic initiative; it reflects our core values and is a testament to our dedication to social responsibility, diversity, and inclusion within our partnerships.
By working closely with small, disadvantaged businesses, we tap into a rich tapestry of experiences and perspectives, allowing us to offer even better services to our customers while contributing to economic empowerment in underrepresented communities.
In the spirit of Native American Heritage Month, we're proud to highlight our diverse partnership with Warrior Outdoor, LLC, a Cherokee Indian Owned Small Business.
Partner Spotlight: Warrior Outdoor
Warrior Outdoor is recognized by the Cherokee Nation and acknowledged as a TERO-qualified Indian contractor. It has earned the distinction of qualified small business (QSB) under the Diversity Program regulated by the Small Business Administration (SBA). Their extensive offerings encompass a broad spectrum of critical products, from medical supplies to essential personal protective equipment for institutions, including U.S. government agencies, healthcare facilities, and qualified businesses.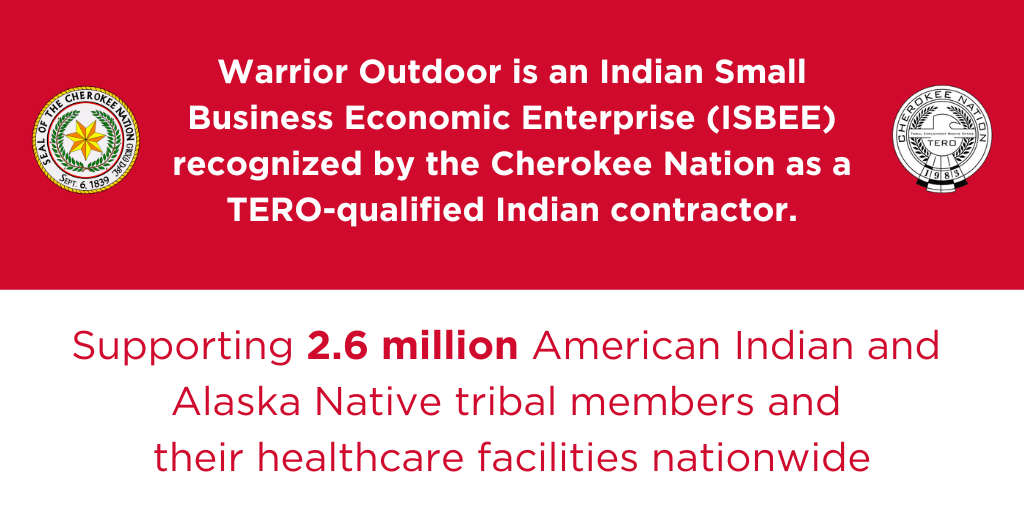 Benefits of HHS and Warrior Outdoor's Diverse Partnership
Empowered Communities - This collaboration offers vital support to small businesses, particularly those led by indigenous communities, enabling them to further empower and promote the entrepreneurial spirit within the tribal nation.
Combined Expertise for Beneficial Outcomes - The union between Warrior Outdoor and HHS is a compelling example of the strength of combined backgrounds and experiences to yield tangible results. It demonstrates that investing in diversity spending in businesses is not just an obligation, but also an avenue for supporting advancement, innovation, and, most importantly, implementing positive change in underserved communities.
Elevated Business Sustainability - Together, we are laying the groundwork for a more inclusive and equitable economy, championing transformation, and cultivating mutual successes. This collaboration drives economic growth and creates a more balanced and resilient business environment.
HHS' diverse partnership with Warrior Outdoor is a model for how businesses can collaborate to create a more inclusive and equitable economy. By working together, HHS and Warrior Outdoor empower communities and elevate business sustainability.
This collaboration is a testament to HHS' commitment to social responsibility, diversity, and inclusion. It is also a reminder of the importance of investing in small, disadvantaged businesses. These businesses are essential to our economy and provide solutions that benefit us all.
Learn more about HHS' corporate and social responsibility and view our 2022 report.