July 17, 2020
Hospital Support Services: The Data Behind Their Impact
You know that hospital support services matter. But maybe you've never seen their impact quantified through real data.
We collected information from three different departments—patient transport, environmental services, and linen management—to find out exactly how they impact hospitals.
We found four main ways they positively influenced their facility's performance:
1. Gave nurses more time to spend with patients
2. Improved patient recovery and healing
3. Reduced operational costs
4. Improved the overall patient experience
1. More time for nurses.
Nurses are on overload. Even before COVID-19, they were being stretched far beyond the responsibilities of patient care.
Support services staff can reduce the burden.
All support departments contribute to reducing the workload for nurses. But one of the biggest opportunities for giving them more time is making interdepartmental communication more efficient.
Take a look at some of the findings from this study by BMC Health Services.
This chart shows the number of tasks and the type of tasks that nurses complete in a given hour.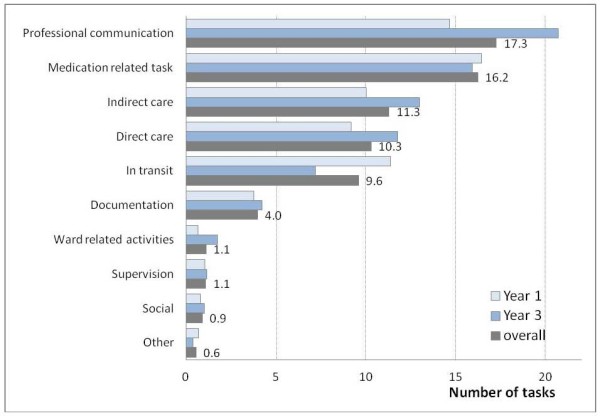 source: https://www.ncbi.nlm.nih.gov/pmc/articles/PMC3238335/figure/F1/

On average, nurses complete 17.3 professional communication tasks every hour. And the number increased by more than 5 tasks per hour between year 1 and year 3 of the study.
This next graph shows the percentage of time spent on each task.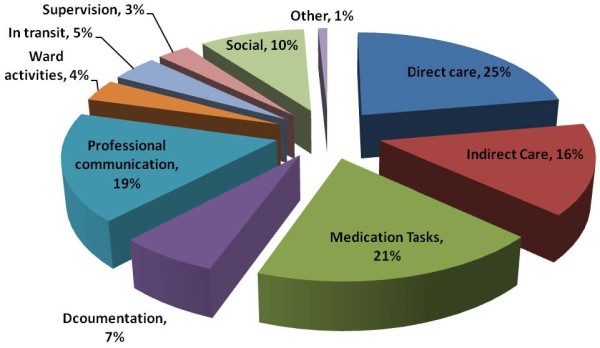 source: https://www.ncbi.nlm.nih.gov/pmc/articles/PMC3238335/figure/F2/

Professional communication tasks take up almost a 5th of a nurse's time. That's roughly 1.7 hours for one 8.5 hour shift.
When it comes to communication between departments, software such as BedWatch can make things easier. This mobile software helps nurses quickly make requests to certain departments while enabling those teams to immediately respond.
It also presents additional opportunities to reduce a nurse's workload. One task in particular that can eat up a nurse's time is transporting patients after discharge.
For example, one of our patient transport teams at a facility in Florida uses BedWatch to streamline their communication with nurses.
When a patient is ready for discharge, the nurse puts in a request through the BedWatch app. Then, one of the transporters claims the request and responds in real time.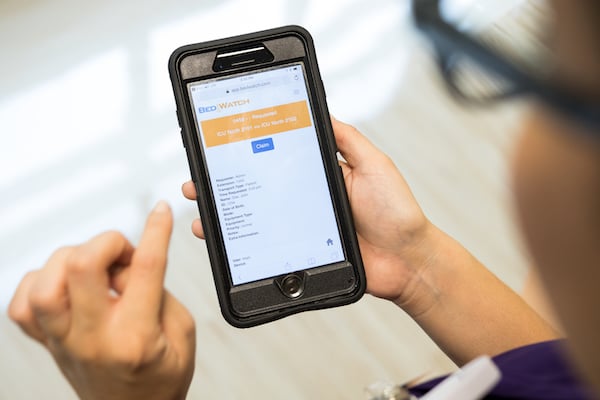 How much time did this save nurses?
Over 6,000 hours per year.
That means more time to focus on patients, and more time spent improving patient satisfaction. The team also reduced patient wait times and recaptured an estimated 30,764 hours of actual bed capacity each year.
That's a massive improvement, and it gave back meaningful hours of clinical care to the nursing staff.
2. Improved patient recovery and healing.
Clinical care is not the only variable at play for patient recovery. Hospital support services should be designed to promote healing and provide excellent patient care.
The environmental services department is perfectly positioned to help.
COVID-19 has shed light on the importance of this department. They help patients and staff stay safe, not just from COVID-19, but also from healthcare-associated infections (HAIs).
So, how do they do that and what kind of impact can they have?
Let's take a look at a 400+ bed facility in Texas.
In 2017, the hospital had 76 HAIs. That's when HHS took over the facility's environmental services and implemented some drastic changes:
• The team started attending all nursing unit meetings. This helped strengthen the relationship between them and the nursing staff.

• They began more intentional rounding practices to understand staffing needs and where problems were occurring.

• They retrained team members and resolved gaps in interdepartmental communication.
We monitored changes from the beginning of 2017 through the beginning of 2019. Let's look at the results.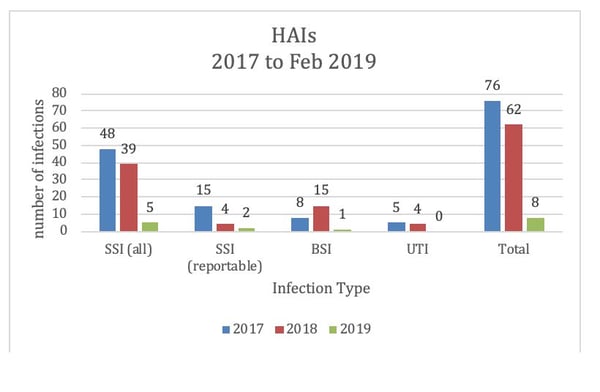 Between 2017 and 2018, the number of HAIs decreased from 76 to 62. That's a reduction rate of 18%. Through February of 2019, the reduction rate from 2018 stayed consistent at around 20%.
The steady decline in HAIs is a direct result of the plan implemented by the environmental services team.
Improving the patient care at your hospital will require more than just clinical adjustments. You need to invest in your support services teams to make sure every patient gets the care they need and the experience they deserve.
3. Reduced costs.
It takes a lot of resources to run your hospital. Non-clinical departments can often be places where extra costs get overlooked.
A good example is in the management of linens.
Hospitals overuse and misuse linen every single day. Because of this, your linen program is one of the first places you should look when trying to save money.
Just by installing a dedicated, knowledgeable on-site linen manager, we've found you can reduce linen usage by 26% in the first year.
That can mean up to 6 figures in linen cost-savings.
By overlooking your support services departments, you might be missing an opportunity to save a lot of money. And on top of saving you money, investing in these departments can have significant returns on patient satisfaction.
4. Improved the overall patient experience.
At the center of your operations is the patient. Everything should revolve around them. And one of the biggest factors in their experience is their wait time.
This is directly affected by how quickly your environmental services team can clean and disinfect a room to get it ready for the next patient.
Let's look back at the 400+ bed facility in Texas. Including a high rate of HAIs, the hospital was taking, on average, over 200 minutes to get a room prepared for a new patient. After HHS took over the environmental services operations, here's what happened: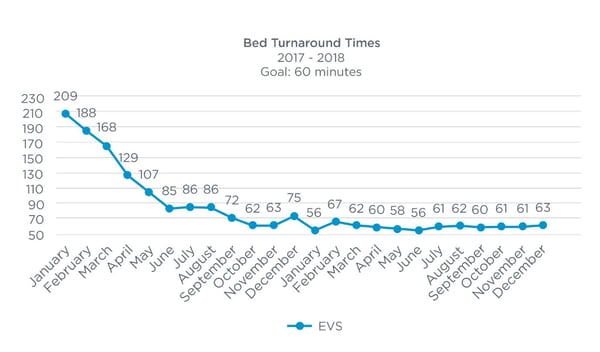 At the beginning of 2017, the average turnaround time was 209 minutes. By the end of 2018, it was down to 63 minutes, with an all-time low of 56 minutes in the month of June.
That's nearly a 70% reduction in turnaround time over a 2-year span.
This also led to a steady increase in the facility's HCAHPS scores.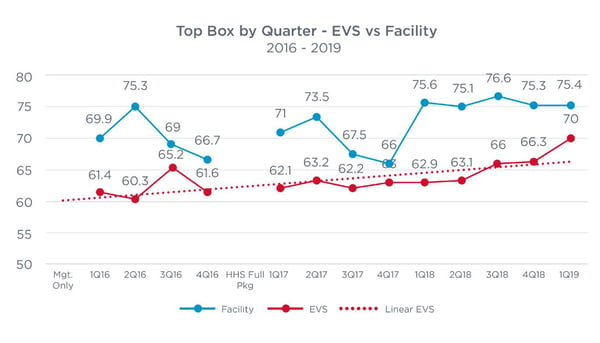 Hospital support services are critical to your facility's operations. Failing to properly invest in them results in a higher workload for nurses, unnecessary costs, and poor patient experiences.