June 15, 2023
Chantelle Thomas Finds Connection and Success Through Food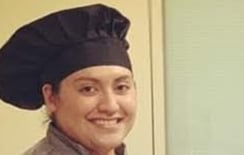 Chantelle Thomas was forced to grow up at a young age when she moved out of her family's home at 16 years old and got a job in the fast food industry. At just 20, she began working at a residential care facility. She quickly noticed that food had the power to comfort the children in her care and create community and a sense of family in that facility.
Chantelle shared, "I've always been someone that tries to comfort people and make people feel better. Being in that setting year-round, [kids living] in the worst time of their life. They don't all speak English [but] no matter what barriers [we] had, food was the one thing that always brings people together."
As part of her role in the group home, Chantelle taught the children all the necessary life skills involved in feeding themselves: budgeting, grocery shopping, following a recipe, and basic cooking and kitchen know-how. After six years in that role, Chantelle tried other jobs, but always returned to the comfort of the kitchen.
She eventually found herself working in prison food service where she continued to grow and hone her skillset. "Even [in prison], it's food [that is] how you comfort people. Even just getting them snacks to make their day a little better. I loved that," Chantelle elaborated.
In 2018, Chantelle began her career at HHS as a patient meal cook. While working under multiple chefs, she seized the chance to absorb all she could and master the fundamentals. She worked her way up from cook to ambassador, then sous chef, and finally to her current position as culinary director at a hospital in Nebraska. In the near future, however, she will be moving to Carlsbad, New Mexico, where she will be the culinary director at the hospital where her career with HHS began.
During her time at HHS, Vice President Jack Wilder noticed Chantelle's skills and urged her to enroll in the continuing education program offered through HHS' collaboration with Rouxbe Online Culinary School. Chantelle applied for the program twice, earning a spot the second time. She took on the challenge with great enthusiasm and completed the two-year course in an impressive 10 months, demonstrating her exceptional dedication and commitment to her professional growth.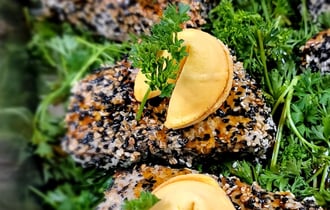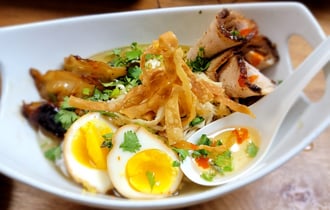 Chantelle proclaimed proudly, "I wanted to get it done as fast as possible. After work, I would go home and do four hours and on the weekends, I'd do eight hours. I would sit down with the kids and we would all do homework together." She mentioned that this was all made possible by the help of her boyfriend and sister.
Putting in so many hours working full-time and studying comes easy when you love what you do as much as Chantelle does. When she talks about what she does, her passion is very clear. Chantelle discussed her favorite thing about her job, saying, "[I love] making people happy. We're all exhausted. We are all moms. We are all dads. We are all people, [whether we're] doctors or whoever we are in our careers, we're all people. But the one time of day that everyone looks forward to, it's lunch. What are we having for lunch? So, just [knowing] that's the one time of the day that people are looking forward to… just the expression that they have. [They're] like, 'Thank you, I've been looking forward to this all week!' The comments that I get are so satisfying to me. I love knowing that little [thing] made their week or their day."
Chantelle expressed gratitude for the opportunity she has found to have a career and continue to grow at HHS. She is most proud of the fact that she recognized the opportunity and didn't let it pass her by without going for it. She encourages team members and her children by telling them, "Never be comfortable, always push yourself to do more than you feel like you can. [Because] if you're comfortable, [then] you're not growing."