December 19, 2022
Carter Watson Finds a Community and Career in EVS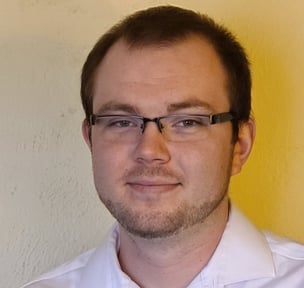 Carter Watson was born and raised in Colorado Springs, Colorado, by his single mother. In 2017, Carter began working as a trash tech at a local hospital; the same hospital where he is now an assistant director of EVS.
HHS retained him as a team member after taking over the hospital's contract in 2019 and Carter has been promoted twice since then. He credits his now Vice President, Willie Nash, with mentoring him and helping him find success with HHS over the past few years.
When speaking about his leadership style, Carter's humble spirit is very clear. He shares, "I am able to manage in a very servant leadership style. With the teamwork and dedication that the team members have with one another and the facility, I am able to focus more on rewarding exceptional work and less on correcting. I give kudos to [my] team members, daily, in safety huddle."
Carter finds great enjoyment in learning and growing in his career. He is participating in the Southwest University program currently in order to continue his career growth. He sees this as just the beginning. His goal is to eventually move into a director position within his hospital or at another facility.
"I stay motivated by the satisfaction of growth. I am always looking to learn new ideas and techniques and to further my skills as a leader. In my time with HHS, I have grown past my own expectations and I am excited to see where I go," he explains.
Carter really enjoys the aspect of community that comes with leading his team. "The team on the night shift here is absolutely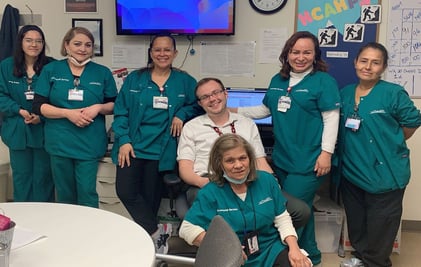 amazing. They shine in teamwork and efficiency more than I would have imagined. The team regularly pitches in money once a month to do a birthday party for the team members whose birthdays are in that month. There is a community within the night shift and it makes me very happy to work with them," he shares.
What would your advice be for other team members?
"My advice would be: don't lose focus. Focus on your strengths and how you can use them to better the department or your assigned area. Show your manager your work and your pride in what you do. Ask them what else you can do or how to do it even better. Promotions come down to timing sometimes, and it is important that you present as the best candidate at any point. You never want the time for you to move forward to arise when you aren't at your best. Stay focused."
What motivated you to participate in the Southwest University Program and what do you like most about it?
"I decided to try the Southwest University program to help me grow as a manager and to help me grow within my career. I had no after high school schooling experience prior to this and I knew a degree would help me move forward. When this program was introduced, I decided that it was exactly what I needed for the growth I am aiming for. I like that most of the teachers are flexible with your schedule and try to work with you to ensure your success. I would say the knowledge of different leadership styles and techniques has helped me the most but I really enjoyed learning about the history of hospitals and healthcare."