February 11, 2022
Finding Opportunity and Passion at HHS
Rodney Laporte started working at HHS in July 2018 as a trash tech. He was initially drawn to the company because of its reputation and since joining HHS has continued to rise above job expectations, culminating in multiple promotions. Most recently, he was promoted to assistant director at an environmental services (EVS) account in Florida.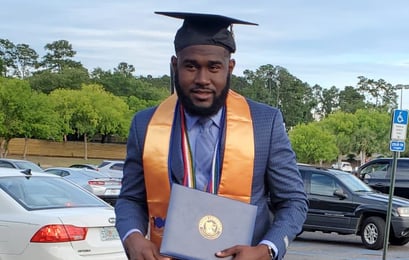 Rodney is determined and enthusiastic to learn and grow in his career. His director, Minnette Pizzetta describes him as "a hard worker that show[s] pride, a willingness to learn and take on new roles."
Minnette is confident that Rodney will bring a lot of value to his team as an assistant director and said, "His excitement for the work is contagious for me, the other ADs, and the team members. I am very proud of what he has accomplished as a leader of his team and I can't wait to see his accomplishments and his future with HHS."
Originally from Haiti, Rodney immigrated to the United States in 2015, along with his father and sister. He was just 17 years old and had been doing odd jobs back in Haiti to help support his family. Rodney is currently a student at Keiser University pursuing a bachelor's degree in criminal justice but feels like he found his true passion working at HHS. He shares, "I wanted to be a police officer to help my family back home, but now I am going in a different direction to do what I love the most."
Rodney has found a lot to love about his job with HHS and one of those things is the people. "I've always been motivated by meeting new people and solving problems. I know that helping people get what they need out of an experience is satisfying for me. Part of what excited me about this role is that it interacts with a wide palette of patients and departments." He also enjoys being kept on his toes and pushed outside of his comfort zone in his role as an assistant director.
Looking to the Future
In the coming years, Rodney hopes to go on to earn an MBA, continue to advance in his career with HHS, and one day become a director at his own account.
"I enjoy working with HHS because they are a supportive company that realizes employees are their greatest asset. So, I look forward to being in a place that continually demands excellence while still allowing a healthy and positive work environment. My ideal career is one where my ideas are heard, and I am making a real impact. I want to learn all I can about this company and be a thought leader who inspires others."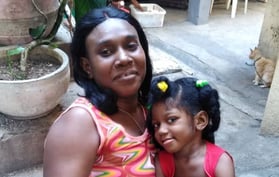 Rodney has another goal for the future as well, and that is to bring his mother and younger siblings to the United States to join their family. Haiti has a rich and beautiful heritage but life there has been hard for Rodney's family. He is incredibly thankful for the opportunities that have been given to him and is working hard along with his father to reunite their family.