February 17, 2023
HHS Floor Tech Wins Christus Health Integrity Award
HHS Floor Tech, Alex Reyes, was recently awarded the Integrity Award as part of the Christus Health Living Our Values program at his hospital. The Integrity Award is given to someone who, "[displays] honesty, justice, and consistency in all relationships. Consistently serves with the spirit of humility and sincerity. Fosters a safe and just environment which allows every individual to speak openly and ask for help when needed. Actively practices and promotes decision making in alignment with our core values and Catholic identity."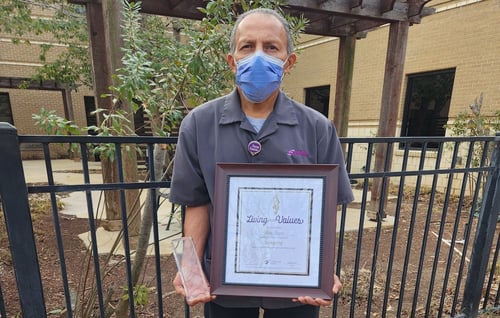 The person who anonymously nominated Alex, said, "Alex is diligent in his work. He tends to his duties with dedication and excellence. Alex's quiet and pleasant spirit is welcoming. He's always there so associates know they can rely on him. He demonstrates true concern for his work, work environment, and fellow associates. No job is too small for Alex. [He] is a servant leader."
Alex's EVS director, Cindy Kalb, said, "If I had 32 Alexes, I would have the best job in the world. He never speaks to anybody with disrespect and he's always willing to help teach somebody."
Cindy says that Alex is her go-to when there are any important projects with tight deadlines because she knows she can count on Alex to complete the project on time and with excellence. Alex's fellow team members also freely come to him when they have questions or need help. Cindy calls him her "floor guru."
"The way he acts to [fellow team members], his demeanor in the way he leads and teaches them; he just sets everybody else at ease," Cindy said.
Alex was soft-spoken and humble when talking about his achievement in winning this award. He talked about how he enjoys the people on his team, the pride he takes in his work, and the work ethic he gained from watching his parents while growing up.
Alex takes pride in his work and enjoys seeing how a well-maintained floor can impact a patient's perception of the facility. "I do like when I hear people [say] 'Wow, what a floor! Look at that floor!' I hear that a little from strangers. [It] keeps me working my best, you know, showing quality work," shares Alex.
Out of all the Living Our Values awards given at the facility, Alex was the only employee-level team member to be recognized. The other recipients were all in leadership and director-level positions. That says a lot about the respect that Alex has garnered from his colleagues.
Alex has been a member of the EVS team at his facility for 17 years, three of those years with HHS, and has no intentions of slowing down anytime soon. "I can't sit still, I'm always doing something. I'm always busy, you know [I'm just] that person."