September 6, 2019
Leadership Spotlight: James Hernandez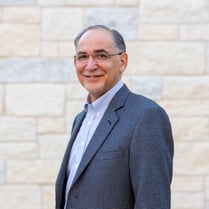 James Hernandez has been with HHS for 30 years and leads the new manager orientation program at the HHS Home Office in Dripping Springs, Texas. We sat down to learn more about his career with the company and what has made him successful over the years.
You've been with HHS for 30 years, and have been training new managers since 2004. Why do you think you were chosen to go down that path rather than remaining in operations?
As you said, my time in the company spans three decades now. I started in operations, and being in different operational positions—from assistant director to director and into a vice president position—I gained great experience. Training and teaching people is a passion of mine and I did that in my career in the hospitality business prior to HHS. Even in a vice president role with HHS, we're all teachers and trainers, and that was something that I naturally gravitated towards. I enjoy doing that and have a passion for it.
What do you think has contributed to your success?
One major thing that contributed to my success is that when Jim Spry was starting HHS in 1975, I was starting my first job as a housekeeper in the hospitality industry. I cleaned rooms every day, eight hours a day, sometimes double shifts, so I understand what it's like to be in the role. Having that experience builds character and humility. I've carried that humility with me in my teaching and training, and in managing operations. It's very natural for me to meet and work with different managers and teach them what they're going to encounter out in the field. I've taken my experience coming from my days as a housekeeper and then moving up into various positions that led me to a career with HHS, and I use that in my leadership style when training new managers. Understanding the work that our teams do every day and how hard it really is to clean rooms really teaches them humility. You have to understand what it's like to work in the service industry to understand how to lead that role.
What's some of the advice you give to managers that want to be successful with HHS?
I tell them that they have to invest in themselves. I give them a foundation they can build upon, but they have to develop themselves. HHS gives them tools for development through HHSU and our support from regional leadership. Some managers want to wait for people to teach them certain things, but they really have to invest in their own career path, and we have the tools and resources for them to do that.
It's important to understand that this job isn't so much about the technical—cleaning, stripping, and waxing. I tell new managers that the most important thing for them to learn is to be able to lead. If you don't learn how to lead a team, you won't succeed—leadership is the biggest part of this job.
How has your job changed over the years?
It's changed a lot, but the basis of what we're doing is still the same. I was trained in Nacogdoches, Texas, and when we went to a job site and learned from a director there, it was very hands on and wasn't as much of what we do today in terms of the soft skills and leadership. Technology was totally different and we didn't have computers, whereas today we have all the automation tools. Technology has been the biggest change for me because I'm kind of an old school guy and I'm still trying to catch up. The culture of our company is to do better today than we did yesterday, and that's something that we've focused on bringing in our program today.
What do you think sets HHS apart from our competitors?
What sets us apart in the industry is our people and our training. You can see our commitment to training from day one. The dedication we have to properly train and develop managers, that is our competitive edge. We invest in people from day one. That's the one common denominator I hear from HHS managers that have worked for competitors. I've had managers in my training program who have been in the industry for 10 or 20 years, and they tell me they thought they knew everything but ultimately learned a lot going through our HHS training.
How do you stay so motivated after 30 years?
You have to love what you do. When my son got his degree and was going off to work, I told him, "Whatever you do, don't just go for the money, you have to find something you like to do. When you wake up every day you have to go do that job, and if you don't like what you do you're not going to do it well." I'm passionate about training, teaching, and helping people. When the people I train as assistant directors eventually become directors, they call and tell me about their success, and that's my reward. Knowing that I'm part of their career development and helping them to be successful—that motivates me.