August 7, 2021
Luis Gomez: Going The Extra Mile for Patients
Every morning when Luis Gomez's alarm sounds, he wakes up and celebrates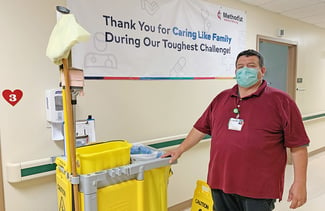 that he has another day to be a blessing to someone. As a housekeeper, Luis's work is essential to patient safety. But beyond doing his regular cleaning responsibilities, Luis takes pride in going the extra mile for his patients.
"As housekeepers, we often think we are small, but we are a big part of patient care," says Luis.
Luis used to volunteer at a senior living facility and came to understand the positive impact he could make on people by just being present. He took that experience and transitioned it into the hospital setting when he joined HHS four years ago.
"Just talking to the patients is amazing. I always find time in my schedule to be with them."
During the peak of COVID, Luis didn't hesitate to go into the patient rooms. Without visitors being allowed, Luis was one of the only people, besides the medical team, with whom the patients got to regularly interact with.
He reflects, "I would walk into the room and introduce myself and say 'I'm your housekeeper, TV tech, chaplain, and anything else you need me to be.'" His fun-loving demeanor and comforting nature brought joy to many during those difficult days.
So much so, that Luis's level of patient care has been highlighted in multiple local news stories and has supplied him with many meaningful connections.
Read his stories:
An Unwavering Love for Patient Care
Luis doesn't go above and beyond for the patients to receive recognition — his reward is the smiles on the patients' faces.
"When I drive home after work, I don't think about how many rooms I cleaned. I think about how many smiles I put on peoples' faces. If I can make a patient's day then I'm happy. I want to do everything better for them."
Luis loves that HHS has allowed him to just be himself and radiate his love to those around him. He shares, "Every day it seems like my heart just keeps getting bigger and bigger. I love the feeling of seeing a patient smile."
"Big picture," Luis comments, "the patients are the reason I have a job. Because they are sick, I'm able to come to work."
Taking that to heart, Luis makes sure that he makes a difference for each patient he interacts with. "I just want to do everything better for them. My job revolves around them."
Luis shares, "I cannot be seasonal in my work. I can't be a good housekeeper one month and then be bad the next. I have to be consistent every day and [continually] aim to be better."
His advice to all, "Do your job, and if you do extra, do it with love."
Luis's Inspiration
Luis has faced many struggles in his life and has "hit rock bottom." He didn't let that keep him down. He was inspired by the people who helped him and he wanted to provide that same blessing to others.
One of his favorite stories he shares with his patients who are having a hard day is this …
"In the old days when we took pictures with a film camera, what came out first? A negative. What do you do with that negative? You develop it into something beautiful. You can do great things with a negative!"
No matter the recognition and the headlines showcasing Luis's extraordinary work as a housekeeper, he continues to wake up with the simple goal of being a blessing to someone.