July 18, 2022
Never Fear, Aziz is Here
When Aziz El's father became ill, she knew it was her sign to care for others. After years of working in retail and food service, she felt called to provide compassionate care for others. That's when she became a housekeeper with HHS.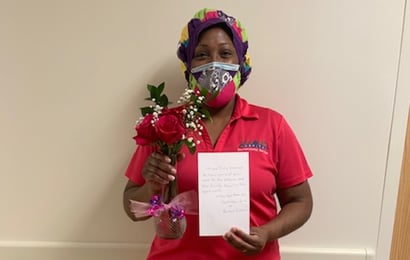 "My love for patients is because of my father. [I have] concern for people being well taken care of. So that became my passion, you know, helping others," Aziz shared. She describes herself as an outgoing person who is grateful to be alive and motivated by her children and faith.
Many of Aziz's patients have gone out of their way to recognize her for the outstanding and compassionate care she gives. It is not rare for her to receive notes and compliments as patients are discharged. Recently, a visitor described the care she gave to their loved one by saying, "She walks with the energy of God and you can feel it."
EVS Director Enrique Cox raved about Aziz, saying "When Aziz works in an area, she really owns that unit. She's all about teamwork and won't settle for anything less. She makes that well known, " he chuckled. "She has a very big presence on the unit but in the best possible way. She works well with everybody, she cares about everybody. She cares about the patients, and about making the workload lighter for the nurses, but she also holds the nurses accountable. She holds everybody on her floor accountable." Aziz's motto that she tells hospital staff, is "Never fear, Aziz is here!"

The enthusiasm that Aziz has for her work is very clear when speaking with her. The expectations she has for herself and the rest of the team are high, and she consistently exceeds them.
"Once the patient leaves the room, tear it down, honey! From top to bottom. Scrub it and make sure it's clean. Make it shine! I take pride in my work no matter what I do," she exclaimed. "I am a good housekeeper, but I work slowly. I am very thorough, I feel as though my mother be sitting on my shoulder saying, 'Hey you know you didn't do that right, do it again.' That's how I grew up. You do it right the first time."
Aziz doesn't stop at cleaning her patients' rooms and filling the hallways with her cheerful, positive attitude. She is caring, compassionate, and empathetic as she establishes relationships with the patients on her unit. She writes inspirational quotes and kind encouragements for patients to find in their rooms after she cleans. She takes a few minutes to cry with a patient or hug someone who just lost their loved one.
"I am a sentimental person and I'm a big crybaby. I sense things very easily. It's hard when you go into these patients' rooms. Every day you speak with them, you laugh, you joke, we might even shed tears every now and then. There was a man who had just lost his father. I just went in there and I had to hug him. When you lose any loved one, that's a hurtful thing. He said his father was his best friend and that's the type of relationship I have with my father. So when he lost his father, I put my arms around him," Aziz recalled.
Aziz consistently spoke about how she wants to see more love in the world, more compassion and empathy, to make the world a better place. She is doing every bit of her part to realize that.