March 17, 2023
Meatless Mondays, No Longer Just for Mondays: Brittney Horn Talks About the Trend That is Here to Stay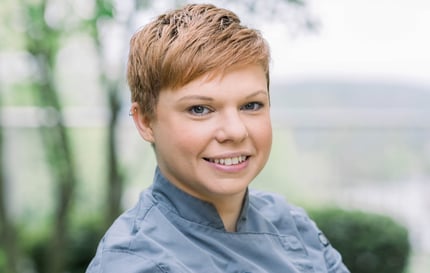 In the past several years, there has been a rise in the trend of plant-based meals. This trend has permeated the culinary world everywhere from fine dining to hospital cafeterias and patient rooms.
More and more, patients and customers alike want to see vegetarian and plant-forward options being provided. Healthcare settings have an enormous opportunity to lean into this trend and realize the benefits of plant-based nutrition in terms of health, sustainability, and profit margins.
What was once viewed as an off-the-wall diet, unaffordable, and lacking in nutritional value is now widely sought out by consumers. A recent report stated that nearly 40% of consumers are trying to include more vegan foods in their diets. That is a major difference from how consumers viewed meals without meat twenty years ago.
HHS Chef Brittney Horn expressed, "I think as time has gone on, people are more thoughtful about the kind of food they eat every day and how it makes them feel. [They're] moving away from more processed items and pre-made, packaged junk. With that switch, has come eating well and eating clean. I think people are more open-minded in trying things like tempeh and tofu and looking at ways to make vegetables the star and really showcase them in a new way. "
In healthcare settings specifically, there are several reasons why this trend makes sense and why it has staying power. The most obvious reason is the direct impact a plant-based diet has on the health of patients and consumers.
We know nutrition affects the clinical outcomes of patients, but it has been a largely underutilized strategy by hospitals in the past. A plant-based diet has been shown to reduce the risk of many chronic diseases and can even reverse chronic diseases. In addition to benefitting the health of patients, plant-based meal options have a profound effect on the health and well-being of hospital staff.
"Healthcare people work long hours, we're open [24/7] 365, so [it's about] finding ways to energize and fulfill that hunger and that want, without weighing them down and making them groggy," Brittney explained.
She went on to say, "You see people that have more energy. They're very thankful it's not just a bar of fried items. That there are some different and more health-conscious items. You've got a building full of nurses and doctors, they think about their health a little bit differently."
Not only can hospitals make a marked difference in the health of patients and staff through plant-forward food offerings, but it's cost-effective and sustainable. In addition to the cost-benefits, plant-based programs also offer environmental sustainability by reducing the impact of livestock production, as well as being sustainable and manageable for patients to maintain long-term.
The list of benefits to this food service trend is clear, but sometimes implementing the shift to plant-based foods can be tricky. Brittney said, "You're always going to have those people that are anti-change. So getting those people on board is the biggest challenge. I am a firm believer in samples. We end up selling a lot more in the long run because people know how something is going to be before they buy it. They go out and tell their friends, 'Did you try that? It was so good! I never would have guessed that!' and then the next time [those friends] are getting the avocado dip instead of a fried chicken sandwich."
For many, it's just about getting over the barrier of the 'unknown.' Brittney explained that her process for recipe development usually involves finding a regional item and figuring out how to modify it to make it healthier but still recognizable to the patient or customer.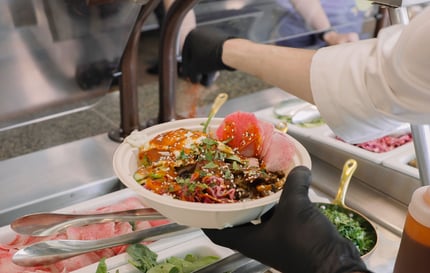 "When we're [responding] consistently and in the right way, we're helping our very captive audience make healthier choices," Brittney said about HHS' innovative response to this exploding trend with programs like Global Bowls and Sustainabowls in partnership with the Humane Society of the United States and initiatives like Meatless Mondays.
It is this combination of innovation in the kitchen and education about health benefits and sustainability that will help hospitals capitalize on this trend, and make it a trend that's here to stay.