April 26, 2021
Introducing Global Bowls: Bringing Authentic Flavors to Our Partners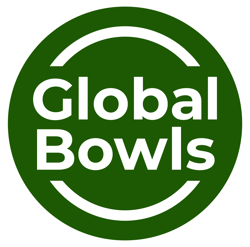 Incorporating authentic, diverse flavors into our dishes while promoting health and wellness is a critical part of HHS' culinary mission. This is why we created Global Bowls, a sustainable culinary initiative that features cuisine from around the world.
Not only does Global Bowls put a spin on hospital food, but it also promotes engagement among team members and guests. Awarding team members the opportunity to create something unique while incorporating what our consumer wants is what makes this program one-of-a-kind.
What is a Global Bowl?
The mission of Global Bowls is to bring diverse, real flavors into the facilities we serve. Here's how we accomplish this:
Customers can build their Global Bowl by combining six main components: Base, Protein, Vegetables, Sauce, Crunch, and Garnish.
Base: This includes either grain, rice, greens, broth, noodles, or a combination.
Protein: Any protein, including vegan protein options.
Vegetables: Vegetables serve as the bulk of the Global Bowl and features different cutting, chopping, and cooking techniques.
Sauce: Sauce incorporates moisture and flavor and compliments the existing recipe.
Crunch: Nuts, fried noodles, and raw vegetables provide crunch and texture.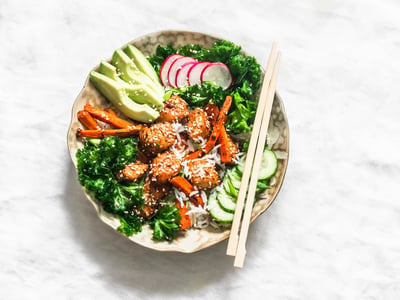 Garnish: Fresh herbs, pickled vegetables, or spice blends help crown the dish.
With recipes ranging from Beef Tandoori to Sesame Rice Bowls to Chickpea Huevos Rancheros, each Global Bowl comes packed with nutrition without compromising flavor.
Sustainability
To build upon sustainability efforts, we have partnered with the Humane Society of the United States to offer plant-based options under our Sustainabowl concept.
"Increasing plant-based foods is a win-win-win situation: it helps animals, encourages healthier eating, and takes pressure off our already over-strained planet," said Karla Dumas, RDN and director of Food Service Innovation at the HSUS.
"We're thrilled to work with HHS in expanding plant-based offerings throughout menus across the country beginning with the Global Bowls plant-based concept.
This includes recipes and educational components designed to empower individuals in making healthy, sustainable food choices that also happen to be delicious and satisfying."
HHS Vice President of Culinary Operations Chef Marta Hernandez commented on the partnership, "The recipes highlight healthful grains and seasonal vegetables, and the program features sustainable and earth-friendly packaging. These features are important to today's consumers, and this will be a game-changer for our retail and senior living operations.
It is incredibly important to offer our guests the very best quality and innovative food options, and Global Bowls will be the first step into a new and exciting time for HHS."
With a more thoughtful approach to the way our food is sourced and prepared, we're able to provide consumers with a wide array of sustainable options that don't compromise taste or flavor.
Global Bowls provides our partners, guests, and team members with a more innovative and engaging experience through its creativity while prioritizing sustainability, health, and wellness.