April 14, 2023
Passion for Cleaning and People Leads Housekeeper to 10 Year Tenure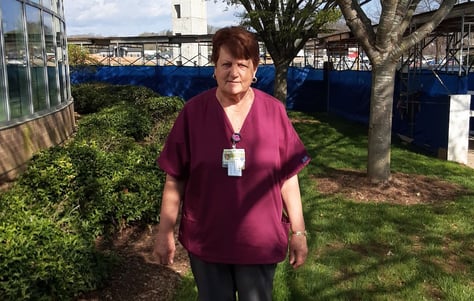 In the fall of 2022, HHS celebrated a milestone 10 years as the EVS provider at North Knoxville Medical Center. Along with several other colleagues, EVS Supervisor Pauline Jones has been there for every moment of it.
Pauline worked at Levi Strauss Company for 29 years before beginning her career in environmental services. She was at another local hospital before accepting her current position with North Knoxville in 2012, right around the same time HHS began managing the facility.
Pauline is a self-described early bird who loves cleaning and loves the people she gets to interact with on the job. Sheila Hawkins, who recently came to the facility as the EVS director, has relied greatly on Pauline's leadership skills during her first months with the team.
"[Miss Pauline] is one of our leaders. She supervises for me, she trains some of the team members once they come on board, and she's a good ambassador as well. When I need [a face] to help resolve any customer complaints, she's usually one of the [people] I use, because she has a good personality and has a reach with our patients. She's a great asset to this department. I really trust her, I really do. I've been here six months and if it had not been for her helping me navigate the hospital and getting to know [the staff], I would have been lost a lot of times," Sheila shared.
Pauline and the other tenured team members have been a huge part of the recent jump in HCAHPS scores, too. Over the past two years, the team's scores have improved by nearly 30 points. "Miss Pauline and those working here for that long history have put in a lot of work and followed the program so we could get those scores up," Sheila said.
When asked what keeps her motivated, Pauline smiled and said, "I just love to be working. My whole family's like that. Always gotta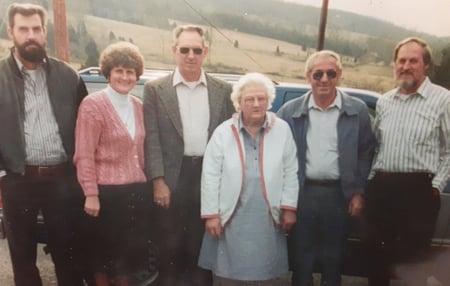 be doing something. My mother lived to be 93 [and] she never gave up. She was always going and she encouraged us kids to work."
Pauline was married to her first husband for 10 years before he passed away from a brain aneurysm. Her experience when he was in the hospital has played a part in how she cares for her patients. "They were real good to him when he was in the hospital. The people that worked with him were super nice to me. That's why I like to return the favor," she mused.
Pauline has since married again and has been with her husband for 26 years. They are very close to her family and get together weekly for Saturday night dinners. She said she runs into former patients in town from time to time and always enjoys catching up. Pauline has made a quiet and steady impact in her community through the care she has consistently provided over the years and will continue to do so as she plans to keep going for many years to come.