July 13, 2022
Sincere Effort and Positive Outlook Help Alec Tracy Find Success
Hailing from Michigan, Alec Tracy bravely made his way to Texas in 2006 without knowing a soul. He began his finance career in 2008 just as the recession hit, managing 401(k) plans for five years before moving into private banking. From there, he made his way to corporate finance, focusing on accounts payable.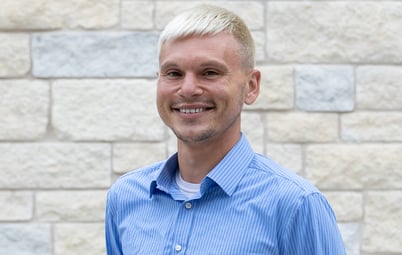 Alec started working at the HHS Home Office in Dripping Springs a little over a year ago. He was hired as an accounts payable specialist but was promoted in April to senior collections specialist, less than a year after joining the company.
His goal was to learn as much as he could about HHS and its policies through his role as an accounts payable specialist. "I've done my best to ensure that I always help my team members and the field, and I've looked to stay available for projects, [and to] streamline processes, when able. My work in accounts payable has led me into a senior collections specialist role, and I look forward to seeing where that leads."
What motivates you to continue to grow your career?
"I do my best in all areas of my life to avoid stagnancy. We all get complacent at times, but I feel the purpose of life is to continually grow and improve to the best of our abilities. With this mindset, I tend to always be looking forward in my career. I value gaining knowledge from others and their experiences, and I enjoy learning new material. I appreciate making a positive impact on the company and its employees and strive to consistently improve and add to my skill sets. I enjoy creating more efficient processes and appreciate being able to meet new people as I continue to grow."

What advice would you give your fellow team members?
"I do my best to stay positive and to keep my thought process on the bigger picture. I've learned throughout my career that quality work and a sincere effort will lead you in the right direction, even if you're unsure of the destination. The direction of your growth is more important than your current position in life, and hard work will always pay off in the end."
"Always look for the value in what life challenges may be able to teach you. We're all much stronger and resilient than we realize."
What do you enjoy most about working for HHS?
"I appreciate being provided the ability to grow. I enjoy being able to interact with my coworkers both at the Home Office, as well as in the field. The DEI emphasis is refreshing and I find it very important to always ensure that all voices are heard, especially those that may not always have had representation or a voice in the past."
Alec is an avid runner and loves exploring new places and being outside. He especially enjoys taking advantage of the natural beauty surrounding HHS' Home Office in Dripping Springs, Texas, for a nature walk.