October 14, 2021
99 Years of Housekeeping Excellence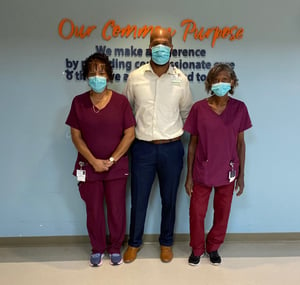 We spend the majority of our life at work. On average, a person will spend 90,000 hours at work over a lifetime. We want to make those hours count, and doing something that you love makes all the difference. HHS Housekeepers Annie Pringle and Elease Bellamy are prime examples of that. Together, the two have 99 years of combined housekeeping experience at the same facility!
Annie, affectionately known as Peaches, celebrated 44 years, and Elease celebrated 55 years at Palms of Pasadena Hospital. Their dedication to HHS and their career-long home at Palms is nothing short of inspiring. We reached out to them to learn what has kept them coming back year after year.
What do you enjoy most about your job?
Annie: "The part that I like best is being with people and talking. I just enjoy people and working with them."
Elease: "Well, I enjoy cleaning. I like going in and cleaning discharge rooms. Making the beds, washing down everything good, and even cleaning the wall."
What motivates you to keep working?
Annie: "I had perfect attendance until I got sick, but before that, I never called in. Never! I was going to retire in January, but I don't think I'm going to. I like it here. I love the people here, my coworkers, and my director. I'll take it month by month, but right now, I feel good, so I'm going to keep working."
Elease: "Well, if I ain't sick, I come in. I'm going to make it through the cold weather and the rain. I take the bus every morning, and if I can't take the bus, I take a cab. I ain't miss a day yet. I feel this way; if you need to pay bills, you have to keep working. You can't expect anyone else to pay [the bills] for you."
What advice would you give to other housekeepers?
Annie: "If you like your job, you come in, and you do the best you can. And make friends."
Elease: "Be at work on time. Do your best."
What's your favorite memory at Palms?
Annie: "There is this young kid in the hospital, and when I clean his room, I talk to him. He says every time he sees me, it makes him happy. That's something."
Elease: "All the housekeepers used to have a cookout, and everyone would bring a covered dish. We'd set the table up and have tons of good food. I enjoyed that."
What are you most looking forward to when you retire?
Annie: "I'm going to spend more time with my grandkids."
Elease: "I want to work around my yard and plant my flowers. If I can get my leg strong enough, I am going to go bowling!"
Donald Bowens, director of EVS at Palms, shares a special message to Peaches and Elease.
To Peaches, "Let's clone you while we can!" And to Elease, "Age ain't nothing but a number. You can still run with the best of them."
"These ladies are like Allstate … you're in good hands."
A Lifetime of Impact
It's easy to take for granted the impact each day's work may make. Sometimes it's the small things that we do, the simple tasks we complete, the smile we bring to people's faces, the loyalty we exhibit to our team, and the connections we develop that make all the difference to those around us.
Annie and Elease are shining examples of how they use every single hour of their workday to show up, work hard, and make a positive impact simply by doing their best. How can you use their advice and apply it to your day?
Tag(s):