November 8, 2021
Creating A Positive Workplace Culture in Patient Transportation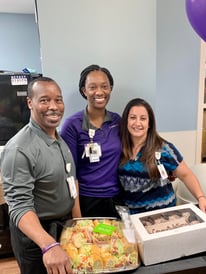 After years working as a retail manager, Susan Waller found herself needing more. She wanted to feel like she "was contributing to the greater good of the world." She realized that "selling shoes wasn't it" for her, and in June 2016, Susan took a chance and landed a job at HHS as the director of patient transport at a hospital in Myrtle Beach, South Carolina.
Mentor, Cheerleader, and Friend
Susan is a firm believer that people don't work for a company but rather, "people work for people." Building relationships and gaining trust was her first priority as a manager. She naturally fell into the role of mentor, cheerleader, and friend for her over 20 team members. They knew she was on their side along with their other supervisors and managers. Everyone cared about each other's growth and success.
Susan is forward-thinking, always envisioning bigger goals for patient transporters and helping them with the steps to meet those objectives. How does she do that? She recognizes the power in managing each person differently, meeting their unique needs and pointing out their successes, and recognizing them publicly for those wins. She then coaches the patient transport supervisors to do the same thing.
One of Susan's former patient transporters, who was recently promoted to manager, Zachary Jones shared that, "Susan really has a way with people and can touch others in so many ways."
Creating Purpose
One thing Susan quickly realized as a manager was how important it is for team members to know the "why" behind both the larger purpose and minute details of their work. When her team members knew the "why" behind their work, they excelled in their job performance and jumped at opportunities to take on more responsibility.
She collaborated with Dominick Powell and Dernard Craighead to develop a sense of "team and family, reduce inefficiencies, create and enforce policies and procedures, and build relationships with hospital staff." They did all this with the purpose of making patient transport at their facility the best that it could be.
Hanging in the transport office are the photos of each team member who earned a promotion. Susan used those as inspiration for the rest of the team. "This could be you," she says, quite proud, reflecting on the achievements and possibilities that each team member has in front of them.
This past year, Susan decided to shift her focus towards family and prioritize the needs of her 16-year-old and four-year-old children. She stepped down as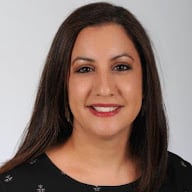 director and moved into an administrative and recruiting role. Though she is no longer managing team members directly, she is still a major part of the success and culture of the entire patient transport department at her facility. Among other administrative work, Susan has taken on the giant task of recruiting in the midst of the current hiring crisis. She has a dynamic approach to recruiting and especially loves to emphasize all the great benefits of working for HHS.
What is your favorite thing about HHS?
"The growth that is able to be provided. There are so many opportunities. If people are willing to put in the hard work and dedication, and if they're here for the right purpose, then HHS can provide them whatever they need."
Susan's impact and continued leadership are greatly respected and appreciated. She exemplifies the values of HHS and has positively influenced so many to follow in her footsteps.