September 19, 2022
From the Ground Up: HHS Chile Celebrates Seven Years
In May, HHS Chile celebrated its seventh anniversary. While the team has found a steady rhythm over time, it wasn't always so easy. HR Manager Natalie Miranda recalls the initial days of getting HHS Chile off the ground with a chuckle: "Bill [Rose] came down here from Texas with an American Express [credit card] and nothing else. [He had a] mission to start this company here. We didn't have anything; we didn't have an office, we didn't have a place to sit, and we didn't have employees. We hired 180 employees in the first month [alone]. We had no reputation so banks wouldn't give us a loan or credit. It was the real meaning of a startup. I will say it was a challenge but I loved it."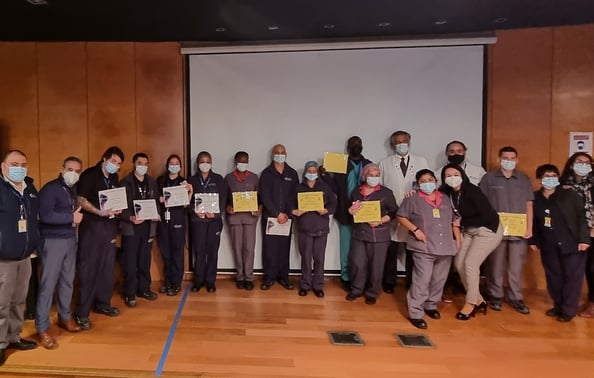 Different Cultures, Different Ways
On top of these hurdles, there was also the issue of navigating cultural differences. Vice President of Operations Alejandro Simon spoke of this divide saying, "Here in Chile, it's a completely different culture. So, Bill had to [come to] understand that, and I think Natalie was a very important key to the success of that. To make him see that things work differently somehow."
Natalie expanded, "In the U.S. you don't need a contract to work for a company, here in Chile you need one. That contract gives you responsibilities towards that employee—health and pension, vacation time. You [also] can't fire someone like you do in the U.S. Here, labor regulations are harder on the companies. It creates a [culture] where you really have to have good relationships with the employees so they perform in a way that helps the business and you can't terminate them without [cause]."

Seven Years Later
Now, seven years later, HHS has accounts at two hospitals in the Santiago area, providing EVS and patient transport services at both facilities and linen utilization management at one hospital. They employ between 400 and 450 team members and have developed strong relationships with their team members and clients.
"We have very close relationships with our housekeepers and transporters. I keep in touch with them through the unions. The ones that started with us from the beginning are the ones who have been really working hard and make this team successful. We have around 60 team members that have been with us since we started, and they believe in us and have faith in the company. They were working for our competitors for 15 to 20 years before us so the fact that they made that shift means a lot to me," Natalie shared.
Both Natalie and Alejandro bragged about all of the managers who have been the real backbone of overcoming challenges and finding success. They are the face of HHS in the hospital and have worked hard to establish these strong relationships. Assistant Manager of Patient Transport, Cristina Carrasco, spoke of her role saying, "Together with my work team, we contribute a grain of sand to a patient's recovery. This injects energy into my life." As a team that performs over 300,000 transports per year, she may be understating the true impact her team provides.
A Future of Growth
Alejandro continues to submit bid after bid for accounts amongst very stiff competition. He explained that many hospitals have had relationships with their current vendors for decades and it's really hard to break into the market. "The only way a [contract becomes available] is when the company is delivering a bad service and they have a bad relationship with the client. Then you have a certain kind of chance," Alejandro said.
Despite the closed market, a couple of things set HHS apart from the competition in Chile. One is the technology we offer through BedWatch, a technology platform that provides visibility into patient flow. This is unlike anything many hospitals in the country have seen or used before. But of course, it can also be hard to make change on such a large scale.
"They don't know what they don't know," Natalie chimes in. "That's hard for our [potential] clients who have been working with vendors for 20+ years. To accept this new company with all the technology that we bring and how we do things differently." She goes on to add, "And we act differently as a company in human capital too. We do the right thing when it comes to HR and how we manage our team members and how we handle the legal aspects of those relationships."
Cristina says that another thing that sets HHS apart is, "our people. The teams we have formed, the know-how, the focus and orientation we have towards the patient [all set us apart]."

And in the trenches of challenge and competition, the HHS Chile team continues to prove themselves. There is much hope and vision for its future by those leading the way. "It's part of our goal to be growing, and this growth has to be very organic. We are [currently] facing a new bid for a new facility in a new building that should be started this [fall]. We have all our coins in that and are trying to grow new business," Alejandro shared.
Bill Rose also reflected on the team's journey over the years: "I can't believe it has been seven years since we started operations in Chile. I still remember the challenges of starting the business and all of the things we just didn't know. It wasn't easy, but I am very proud of our team in Chile, and all of the hard work they have accomplished over the years. We have grown to become a viable business, expanded our partnership with our facilities, and are providing our team members with a healthy work environment."