March 13, 2023
Vice President Alyson Crawford Paves Path for Transgender Team Members at HHS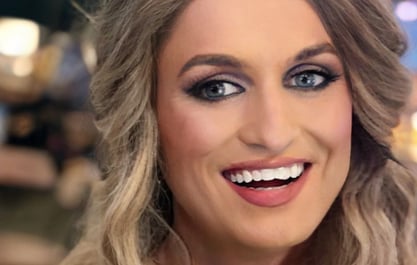 Alyson Crawford's biggest fear in being completely herself was visibility. Staying invisible and living two lives, before she came out as trans, was easier. Until it wasn't.
Alyson shared this about coming out, "The scariest moment for me was getting on the phone to tell Hannah Styer [Vice President of Team Member Resources] and James Maddi, my EVP. I knew I couldn't turn back once I had, and I knew I'd never live if I stayed invisible."
March 31st is Transgender Day of Visibility, which celebrates transgender people and raises awareness of discrimination faced by the transgender community. With visibility, comes understanding, and with understanding, comes compassion. Amplifying the voices of the trans community and letting the trans community be unapologetically visible helps us create a world full of compassion, where every trans person can feel safe being themselves.
Alyson grew up in a small town in Southeast Texas. She sensed she was different but threw herself into school to avoid having to face it. After graduating high school, she was still living her life as a man but decided to explore her sexuality. Alyson moved to Houston to find community with people who were like her, and shortly after, she came out to her parents as a gay man. Her mother said, "I've known you were gay since you were six and we've had a long time to get ready for this, and we've just been waiting for you."
"That was the first of what I would say has been a lifetime of experiences like that, that I am so fortunate [to have]. That was an encouragement to me that motivated me to go on," Alyson shared.
As time went on, while Alyson was working for HHS in Carlsbad, New Mexico as a culinary director, she found herself asking the question, "Why am I not happy?" As she prodded deeper within herself she realized she knew the answer. She relocated to Denver for work and decided to use the new scenery as an opportunity to start living as Alyson part-time.
"I literally lived two completely separate lives," Alyson shares of that period. She relished the time she got to spend as Alyson but found it exhausting to move back and forth between two worlds.
"I just slowly stopped wanting to transform every evening when I got off [work] and transform every morning. I didn't want to go back into my boy clothes. So, I made a plan, and within 90 days I told [HHS leadership]," Alyson said about her choice to come out as transgender in her professional life.
Alyson was relieved and overjoyed at the supportive response she received from James and Hannah as well as Chief People Officer Lisa Molnar. She also received a warm response from colleagues and clients alike.
"We work for a private, Texas company. They did not have to do this, but they did. I'm so blessed because it's changed everything. The first day I got to walk into an account [as Alyson], I'll never forget it. The first time I was on camera with James Maddi, he said 'Well I didn't want to be rude and ask [what Alyson] looked like,' and I said 'Well, I'm still a Texan!' So I had a typical Texan look with big, blonde hair," Alyson laughed while remembering her transition.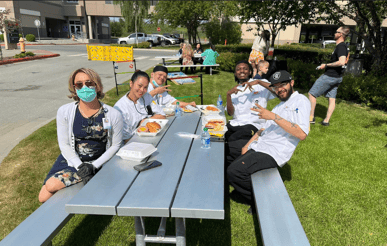 Alyson has paved a path for all transgender team members at HHS to feel safe being their authentic selves. In a world where homelessness and unemployment disproportionately affect transgender men and women, HHS is committed to being a safe place to work for the transgender community. This is something Alyson is particularly passionate about and she has had the opportunity to be that safe place for a few transgender team members who have come out since her own transition. Alyson also serves on the DEI team and is a co-chair of employee resource group HHS Pride Connect where she advocates for all HHS transgender team members.
These days, Alyson resides in Wisconsin, where she lives as her authentic self full-time. As a culinary vice president, she travels frequently across the Central and Northwest United States, often to small, rural towns. She experiences challenges and misunderstandings from time to time, but on the whole, she's so thankful to find acceptance in most places she goes.
When asked what advice she would share with other transgender people struggling with the idea of being visible, Alyson said, "You have to be visible to yourself first. Until you're honest with yourself, you will not be able to [be honest] with other people."